Boise, Idaho
August 22, 2002
When it comes to watermelon, size matters.

Developed by Syngenta Seeds, the first personal-size seedless watermelon, the new PureHeart™ seedless watermelon, is available now at select grocery stores in the Puget Sound area and northern California.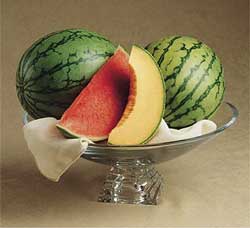 A PureHeart seedless watermelon is about the size and shape of a cantaloupe and has a very thin rind.

Inside, the melon is a deep, crimson red color and has an ultra-sweet flavor -- similar to the heart of a full-size watermelon.

"PureHeart represents the best of a watermelon: the rich color, the juicy, delicious flavor, but with a thin rind like a cantaloupe so there's no waste. That's why we named it PureHeart," said Bruce Axtman, company spokesperson.

Each PureHeart melon weighs between three and six pounds -- enough to serve two adults or about four children -- and can easily fit into the hand of an average adult.

There are a number of benefits to the unique size of a PureHeart seedless watermelon, Axtman said.

For example, a PureHeart watermelon won't fill up a refrigerator and won't create leftovers for households of just one or two people.

In addition, a PureHeart melon is highly portable and will fit into most picnic baskets or ice chests, and still leave plenty of room for the rest of the meal.

Response has been overwhelmingly positive to the new melons.

In test markets last summer, 75 percent of shoppers said they liked the melon and 100 percent said they would purchase a PureHeart seedless melon again.

PureHeart seedless watermelons are grown in the San Joaquin valley and will be available through November for a suggested retail price of $3.99.

The new watermelon is the first product introduced by Dulcinea™, a new produce company that is developing a variety of fruits and vegetables that will deliver the ultimate eating experience that people want on a consistent basis.

Look for the Dulcinea label to match your passion for quality, or visit www.dulcinea.com for more information.
---
Description:
PureHeart seedless watermelon is the first and only personal-sized watermelon.

PureHeart seedless watermelon is all heart: deep, crimson red color, ultra sweet, juicy flavor and
consistent crunch, but with a thin rind so there is little waste.

Each PureHeart seedless watermelon weighs between three and six pounds and can fit into the
hand of an average adult. This new melon is a convenient, portable way to enjoy a favorite fruit.

Serving Size:
2 cups watermelon diced (280 grams)

Nutrition Facts:
· Potassium rich
· Good source of vitamins A and C
· Good source of antioxidants such as lycopene
· Fat and cholesterol free

Suggested Retail Price: $3.99 per melon

Availability:
PureHeart seedless watermelon will be available through November at QFC stores in the greater
Seattle area and all Raley's, Nob Hill and Bel-Air grocery stores in northern California.
Company news release
4774