February 1, 2002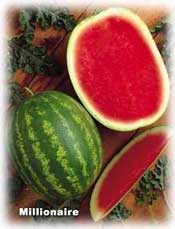 Affirming its position as market leader, Millionaire, the Harris Moran seedless watermelon that's become the industry mainstay, recently outpaced the field in several categories, including yield.

Research conducted at the University of Florida revealed Millionaire out-yielded all comers - 36 in all. The closest competitor tipped the scales nearly 1000 pounds behind Millionaire in total yield.

The trials also tested Brix -- or the sweetness of each variety. Brix for Millionaire averaged 13.1. That was significantly higher than the average for the other three dozen varieties tested.

Researchers also examined disease resistance data. Millionaire showed one of the lowest incidences of Hollow Heart. Early harvest data showed a 0% incidence of Hollow Heart while total harvest data showed only an 8% incidence of the weather-driven malady.

Millionaire also led the fruit-per-plant category with 4.3 fruit-per-plant average. The nearest competitor averaged 3.9 fruit-per-plant.

"Millionaire continues to maintain its industry-wide reputation for yield, quality, and harvestability," said Jana Middleton, HM's product manager for watermelons. "These latest results confirm its stature. But we aren't resting on our laurels. There are more HM varieties with Millionaire qualities on the way to strengthen our entire watermelon program. At HM, we like to think product line instead of single variety."
To learn more about Millionaire, please visit the Harris Moran website at www.harrismoran.com.
Harris Moran Seed Company is part of the largest independently owned seed company in the world. It is owned by Groupe Limagrain, a French cooperative owned, run, and operated by French farmers.

Harris Moran Seed Company breeds innovative vegetable varieties designed to boost yield, reduce chemical inputs, and increase freshness, flavor, and fruit quality from plow to plate. The Modesto, CA-based company breeds vegetables for markets in more than 65 countries.
Company news release
4160