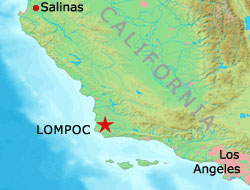 Lompoc, California
August 5, 2004

By Lisa Renken
Special to The Record

An exhibit celebrating the rich history of the flower seed industry in the Lompoc Valley is on display in the Centeno Gallery of the Lompoc Museum through August 22.

Tourists continue to visit here each spring and summer to look at the beautiful flower fields. While the fields may not be as large or as plentiful as in decades past, they still draw appreciative sightseers. They continue to inspire artists with a patchwork quilt of vivid color throughout the valley.

The exhibit pays tribute to the beauty and inspiration of the flower fields, as well as the important economic role the flower seed industry has played in the development of the Lompoc Valley. Vintage posters, photographs, artifacts, and catalogs on loan from several individuals, as well as Bodger Seeds, Ltd. and the Lompoc Valley Historical Society, are displayed.

Most contributors are Lompoc residents who have had a long association with the seed industry. Others are from elsewhere in the state and across the country. Original paintings and prints on loan from Lompoc artists Aiko Cios and Elizabeth Bray are included along with paintings by other local artists on loan from private collections.

Lompoc Museum is grateful to everyone who took the time to share their knowledge of the history of the seed industry. Many individuals were instrumental in putting this exhibit together, including Kim Bodger, of Bodger Seeds, Ltd.; Bess Christensen; Andy Learned; David Lemon, of Oglevee Ltd.; Walt and Myra Manfrina, of the Lompoc Valley Historical Society; Jim Nau, of Ball Seed Co.; Marge Scott, and Al Thompson.

The Lompoc Museum is open every afternoon Tuesday through Sunday; 1 to 5 p.m., Tuesday through Thursday; 1 to 7 p.m. Fridays during Olde Towne Market; and 1 to 4 p.m. on Saturdays and Sundays.

Dr. Lisa Renken is the director of the Lompoc Museum.