August 24, 2004

Australian Oilseeds Federation - Canola Crop Report 2004/05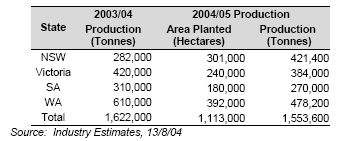 Production estimates have been revised up marginally (2%) due to more positive outlook in Western Australia (WA) and Southern Australia (SA). However, New South Wales (NSW) and Victoria are still dependent on a good spring to secure forecast production.
Most of NSW received rain in late July and early August, although this varied from 10-50 mm in earlier falls and 10-20 mm in the later fall. The north of the state and the more favourable areas continue to have the best outlook. Crops in the north look good, although there is a wide variance in maturity, with early crops at 5-10% flower. In the central and southern districts, lack of subsoil moisture continues to be the major issue and while crops have been kept going with the rain over the past month, they will require good rain through the spring. A potential risk for yields is that if there is not further rain in the central and southern areas in the next 2-3 weeks, this combined with the late planting and low prices, may see less than optimal levels of fertiliser applied by farmers. There have been a few pest problems in the south and also incidence of aphids in the north, but this is not expected to impact yields. In summary, area and yields have been left unchanged. However, with crops in late and no subsoil moisture, a good spring is essential to secure production.
In Victoria the Western Districts and area south of Horsham are looking very good. While crops were planted 3-4 weeks late, there has been no further stress and, with good spring rain, have excellent potential. Crops in the northern Wimmera and Mallee are less impressive and some of the later crops are struggling. There has been some downy mildew in the wetter areas and some blackleg incidence, but neither is expected to impact yield. There has been some insect damage to the later crops in the drier areas. In most areas the crops have made good progress in last couple of weeks and, while similarly to NSW a good spring is required, the crop has good potential. Area and yield have been left unchanged at this time.
In a state of contrasts, parts of the lower south east of South Australia have been impacted by excessive moisture and water logging, while crops in the north are still lacking moisture. However, generally crops are looking okay across the state. There has been some patchy incidence of lucerne flea and red legged earth mite damage. There has also been some incidence of blackleg, which could be of more significance than in Victoria. Again there is yield upside with good spring rain. Area has been left unchanged, but yields have been revised up slightly (3%).
Western Australia looks set to have another good year. Crops are in good condition across the state, particularly in the north. Some of the later crops in the south are lacking subsoil moisture. Area has been increased slightly and yields revised up by 5%.
Copyright© Information has been obtained from sources believed to be reliable, however, AOF is not responsible for the accuracy or completeness of any information contained herein and is not responsible for, nor liable for, the results incurred from their use.