Bonn, Germany
April 29, 2005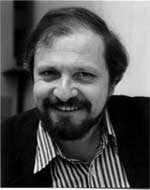 The International Federation of Organic Agriculture Movements (IFOAM) regretfully has to announce the resignation of Bernward Geier (photo), its long-term employee and current Director for International Relations. Bernward, who after working for the federation for nearly twenty years now plans on seeking new challenges, made the mutually agreed decision with IFOAM that their employment relationship should terminate at the end of August. The official farewell will take place in September at the IFOAM Organic World Congress in Adelaide, Australia.

Bernward Geier's first major engagement for IFOAM was with the organizing committee for the 1984 international IFOAM conference in Witzenhausen, Germany. At the time he was a research scientist and lecturer at this world first Institute for Organic Farming in Witzenhausen. Two years later, at the 1986 General Assembly in Santa Cruz, USA, he became IFOAM's new General Secretary to the IFOAM membership; thus signalling IFOAM's move from being a purely voluntary organization to one with a professional administration and management.

When Bernward started work for IFOAM the federation had some 80 active members in about 20 countries. Today the federation unites about 760 member organizations coming from 106 countries worldwide.

From the original first staff position the IFOAM team has grown to 15 people employed at the HeadOffice, with more people working in offices in Rome and Africa.

Gerald A. Herrmann, Vice President and Executive Director of IFOAM emphasizes Bernward Geier's enormous talent at social coherence and team-building. "His empathy with all people has brought together disparate individuals, and inspired every one of us to achieve key personal and organizational goals. He tirelessly helps people become aware of their own skills and successfully integrates people into the world-wide organic community. The fact that IFOAM functions so well as a lively democracy with its unique spirit and membership identity has been one of Bernward's major achievements."

For about ten years following his first appointment, Bernward Geier had the sole responsibility for the management of IFOAM. During this period the federation experienced a rapid and impressive expansion period. At the end of 1996 Bernward was joined by Thomas Cierpka as Managing Director. This allowed Bernward to concentrate on his duties as Director for International Relations, which included public relations work, international advocacy and lobbying as well as organizing conferences and events.

Under the responsibility of Bernward Geier IFOAM achieved the following milestones:
About fifty international IFOAM conferences were organized, including 11 Organic World Congresses.

IFOAM became accredited as a NGO observer with the United Nations (UNO), Food and Agriculture Organization (FAO), United Nations Environment Programme (UNEP), United Nations Committee on Trade and Development (UNCTAD) and the International Labour Organization (ILO).

IFOAM was represented, taking part as an active participate, at all the World Summits since 1992 in Rio, Brazil.

Cooperation and coalitions were arranged with several other international NGOs such as the World Conservation Union (IUCN), Greenpeace, SlowFood and the World Wildlife fund (WWF).
Bernward Geier has served for and worked with eight World Boards and five IFOAM presidents.

On reflecting about his time with IFOAM Bernward Geier said: "In the two decades working for IFOAM I have always felt that I've got more back than I could give to the organic movement. I never had the feeling I was working for customers or clients, but instead with friends from all over the world. It has been, without doubt, a great privilege to have been entrusted and supported by IFOAM for such a long period, allowing me to work for the worldwide organic movement and thus have the opportunity to contribute to 'the world grows organically'. I appreciated the opportunities I've had to facilitate and implement many constructive and important changes to the federation. Now the time has come for me to have a change. I don't know yet what the future will bring. I'm open for new challenges. Yet, no matter where my way will lead me, I cannot imagine a life without close ties to the organic movement, which has been the greatest 'environment' to work for."

Gunnar Rundgren, the President of IFOAM, expressed his appreciation of all Bernward Geier's contributions: "The whole world-wide organic movement has benefited enormously from the work Bernward has done for IFOAM over 20 years. He almost single-handedly made our Federation into a global player and his ability to make contacts and open doors will be missed by all of us. He always kept a firm commitment to the grass-roots and the principles of our movement, something increasingly important in this commercialized world."