Modesto, California
June 23, 2005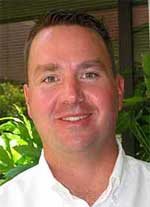 Harris Moran Seed Company (HM) is pleased to announce that Todd Collins (photo), HM's sales representative for Central California, has been promoted to Western Regional Sales Manager.

Beginning July 1, he will lead a sales force whose territory ranges from the Northwest, to California and Arizona, down to Texas, and everywhere in between

His goal: "To grow our business," Collins said. "I want to grow our business by helping our dealers and customers grow their business. We can do this by bringing the right varieties to their door."

He will focus on melons, watermelons, honeydews, fresh market tomatoes, lettuce, broccoli, and cauliflower.

Based in San Luis Obispo, California, he holds a BS in Agronomy from Cal Poly with a minor in Agribusiness. He joined Harris Moran in May of 2001. Prior to coming to Harris Moran, he held sales positions in several agricultural companies. He has been in the vegetable seed business six years.

Collins is a member of the California Agricultural Leadership Program. The group recently returned from a three-week visit of Bulgaria, Hungary, and Romania where they toured growing areas, met farmers and rubbed shoulders with diplomats.

James Webb, Harris Moran's sales and marketing vice-president, said, "I am confident that with Todd's knowledge and energy we will together bring the western region to the next level."

Harris Moran Seed Company is part of the largest independently owned seed company in the world. It is owned by Groupe Limagrain, a cooperative owned, run, and operated by farmers.

Harris Moran breeds innovative vegetable varieties designed to boost yield, reduce chemical inputs, and increase freshness, flavor and fruit quality from plow to plate. The company breeds vegetables for markets in more than 65 countries.