Brookings, South Dakota
July 24, 2006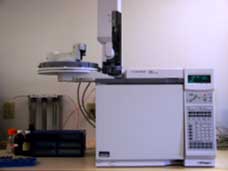 Starting January 1, 2006, the FDA required that the nutritional panels on food labels include information on trans fat content. According to the FDA, there is scientific evidence that consumption of saturated fat, trans fat and dietary cholesterol raises low-density lipoprotein (LDL) or "bad" cholesterol levels, which increases the risk of coronary heart disease.
Low linolenic soybeans have been developed and the resulting oil already has been utilized to help food companies reduce or eliminate trans fats in their products, and high oleic soybean oil is expected to do more of the same.
Vegetable oils do vary between different plant species and varieties—just how much can be shown by gas chromatography.
Mid-West Seed Services, Inc. (MWSS) invites seed and grain companies interested in their oilseed composition to submit samples for analysis. Companies are invited to send single seed samples (such as from a particular line) or bulk seed samples.
MWSS crushes the seed submissions and uses an organic solvent to extract the oil. Derivitization of the fatty acids in the oil into volatile compounds allow for analysis by gas chromatography. The results are then given as the percentage of each fatty acid methyl ester (FAME) of the total oil.
Oil component

Normal Soybeans
(% of total)

Low Linolenic
(% of total)

Palmitic Acid

10.33

10.83

Stearic Acid

3.62

3.45

Oleic Acid

25.57

25.94

Linoleic Acid

52.57

58.77

Linolenic Acid

7.91

1.01

TOTAL

100%

100%
Please see the table. In this example, the oil content of conventional commodity soybeans is provided on the left. Low linolenic soybeans would have oil content similar to that listed on the right.
MWSS can provide oil analysis results in 48 hours.
For more information, please contact Angela Carlson, Analytical Laboratory Coordinator at 877-692-7611 or angelac@mwseed.com.
Mid-West Seed Services, Inc. specializes in seed testing and quality assurance services.
Mid-West Seed Services, Inc. is an International Seed Testing Association (ISTA) accredited and ISO 9001:2000 certified laboratory located in Brookings, South Dakota.