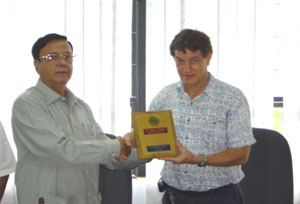 Gazipur, Bangladesh
August 9, 2006

The Bangladesh Rice Research Institute (BRRI) awarded a crest of honour to the former representive of the International Rice Research Institute (IRRI) in Bangladesh Dr Noel Philip Magor on 9 August 2006 at BRRI,Gazipur.

Director Gereral Dr M Mahiul Haque Presided over the Crest awarding ceremony was adressed by Director (Research) Dr M A Baqui, Director (Admin) Dr Nur-E-Elahi, Head of the Plant Breeding Division Dr M A Salam and General Secretary of BRRI Scientists Association Avijit Saha.

Heads of different divisions of BRRI, president and general secretaries of three professional groups of BRRI, senior scientists and officials attended the ceremony.

Dr Haque presented The crest of honour commemorating Dr Magor's 14 years of direct involvement with BRRI as a scientist and development partner as well as his 29-year-long career in Bangladesh.