Ames, Iowa
February 8, 2007

Becker Underwood, Inc., a global leader in inoculants and seed enhancement technology including the manufacturing of seed colorant and coating products, announces a major development in plantability technology with the debut of Flo Rite® polymer technology for soybeans.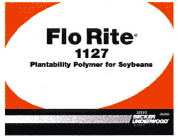 Flo Rite 1127 is the second product of the Flo Rite technology platform, following Flo Rite 1085 for corn. Flo Rite 1127 was developed to enhance the plantability of soybeans that have been treated with various seed treatments.
Flo Rite 1127, when added to commercial seed treatments, improves plantability, seed flow in seed treatment equipment, seed coverage, appearance, and reduces dust-off of actives during and after the seed treatment process.
Flo Rite 1127 is also an inoculant (rhizobia) friendly formulation, so inoculants such as Vault® and NOD+™ may be added to the slurry.

The unique properties of Flo Rite 1127 allow it to be added with active seed treatment components, inoculants, and Color Coat™ Red or Blue directly in the mix tank and applied simultaneously. Talc or additional polymers are not required during application, but Becker Underwood always advocates following planter equipment manufacturer guidelines.

Becker Underwood is excited to introduce this new product to the market this season.

Becker Underwood, Inc. founded in 1982, is a leading developer of bio-agronomic and specialty products. In addition to being the leading manufacturer of seed coatings and colorants, the company is also the leading global producer of inoculants, beneficial nematodes, and a wide range of agricultural and horticultural products. To learn more about Flo Rite 1127 and other Becker Underwood products, visit the company's web site at www.beckerunderwood.com or call (800) 232-5907.