Holland, Michigan
September 7, 2007

Siegers Seed Company, one of North America's largest commercial vegetable seed distributors, goes to extensive lengths when testing and trialing new varieties of vegetable seed before they make them available to growers. They put the newest seed varieties to rigorous tests under many different conditions. These new varieties help growers improve their business by growing superior varieties to meet and exceed market demand and keep them ahead of their competition.

Roy Pearman, Director of Sales and Marketing, for Siegers Seed Company stated, "We do our homework and we won't sell seed if it will not fit a customer's market need and improve their results." Growers who purchase their commercial vegetable seed from Siegers have the benefit of knowledge, expert advice, years of experience and complete programs based on extensive trials which provide them with solutions, programs, and proper expectations.

The valuable information gathered from these new variety trails formulates the recommendations each Siegers Seed Company Professional Seed Consultant develops for their growers. They pride themselves on the quality, integrity and depth of their research so that growers do not to have to guess, take chances for results, and learn by 'trial and error' themselves. Jeff Siegers, Professional Seed Consultant for Siegers Seed Co. currently has over 700 trials with seed from over 20 breeders/producers from all over the world. Siegers heavily involves the breeders, such as Syngenta, in the trial process and regularly brings them to the locations where trails are occurring so they can see the results first hand. The attached photo shows a pepper trial on the property of Mr. Trever Meachum, of HIGH ACRES FRUIT in Hartford, MI.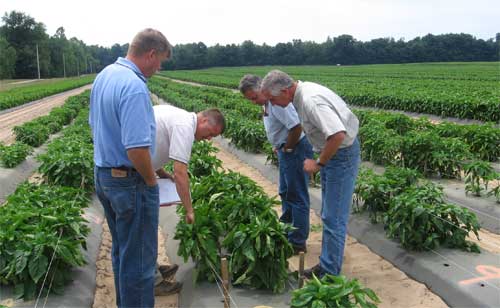 From left to right:
Jim McIntosh- Regional Sales Manager, Rogers Fresh Market Div., Rogers/Syngenta Brand Seed Co.,
Mark Sigourney- Midwest Area Business Manager for Rogers / Syngenta Brand Seed Co.,
Rick Mitchell- Director of Fresh Market Sales, for Rogers/ Syngenta Brand Seed Co., and
Jeff Siegers and Al Zoet, both Professional Seed Consultants with Siegers Seed Company
Each year there are literally thousands of varieties that do not make the Siegers quality cut; they do not exhibit the traits required to be passed on as a commercial variety. One would be hard pressed to find another distributor that would go to these lengths to ensure that their customers are getting proven quality seed products, tested for specific conditions. Mr. Pearman added, "More than just new variety trials, we help by understanding the capabilities of the varieties and can provide details on how to grow them to meet each growers individual needs. This makes it possible for them to be profitable the first time they use a seed or variety."

For more information on Siegers Seed Company or about the trials process you can contact your local Siegers Professional Seed Consultant, call toll free (800)-962-4999 or log on to their website at www.siegers.com

Headquartered in Holland, Michigan, Siegers Seed Company is a privately held, family owned, vegetable seed distributor for commercial growers. For almost one hundred years, they have been committed to helping commercial growers achieve success by bringing them the right varieties at the right time to meet specific market needs. Siegers Seed Company serves commercial vegetable growers in the Midwest, Northeast, Mid-Atlantic, and Southeastern United States as well as Canada. Siegers Seed Company continues to put their growers first and operate with the honesty, integrity, and dependability they have for nearly a century.