Grand Forks, North Dakota
August 14, 2008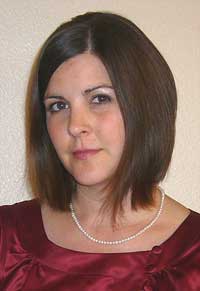 Seed World is proud to announce that the recipient of the second annual Future Giants of the Seed Industry Award is Karen Withers of Pennington Seed Inc.

The Future Giants of the Industry Award is co-presented by FuSE (Future Seed Executives), an initiative of the American Seed Trade Association, and Seed World magazine. The award recognizes a young individual who shows the potential to make a significant contribution to the industry.

Withers has dedicated herself to international seed sales and service, working closely with the Oregon Department of Agriculture and Oregon State University personnel to find more efficient ways of preparing and expediting international shipments. She is well prepared for her role in international logistics, armed with a B.S. degree in Agriculture and Resource Economics, a Minor in Japanese and by spending a year in Japan studying international trade, business, law and culture. She has shown a keen interest in the betterment of the seed industry through her involvement with the American Seed Trade Association as past-chair for the Future Seed Executive Committee. In addition, she is currently serving on the First the Seed Foundation board.

The award was presented at the 2008 ASTA Annual Convention in Orlando, Florida. Future Giants of the Industry will annually recognize a rising leader who is currently employed in the seed industry or is in the graduation year of his/her post-secondary program and plans to enter the seed industry.

The Seed World family of publications includes Seed World magazine, the Seed World web site, and Seed Week, a weekly e-newsletter. Seed World reaches decision makers across the breadth of the seed sector in America, including distributors, retailers, breeders, wholesalers, brokers, trade associations and industry suppliers.