September 18, 2008

Source: SEED INFO - Official newsletter of the WANA Seed Network No. 35, July 2008

Partial table of contents:
- First seed storage facility for village-based seed enterprises in Afghanistan
- ICARDA organizes variety maintenance and breeder seed production course for Iraq
- Plant variety protection in Morocco
- Pakistan launches vegetables seed production program
- and more
CONTRIBUTIONS FROM SEED PROGRAMS AND PROJECTS

In this section we invite national seed programs, projects, universities, and regional and international organizations to provide news about their seed-related activities..

ASMED construct first seed storage facility for Village-based Seed Enterprises in Afghanistan

ICARDA has established 17 Village-based Seed Enterprises (VBSEs) in three provinces in Eastern Afghanistan: Kunar, Laghman and Nangarhar through RAMP and ADP/E programs of USAID. Almost all VBSEs are engaged in seed production and marketing of wheat, rice and mung bean. In 2008, the 17 VBSEs have collectively planted 669 ha and expected to produce about 2500 tonnes of wheat, rice, mung bean and potato seed for marketing.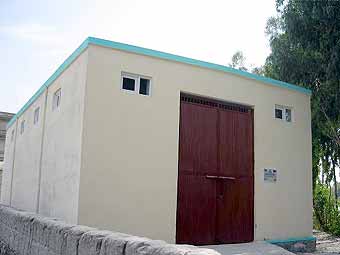 The model local seed storage facility built for Behsood VBSE, Behsood district, Nangarhar, Afghanistan
However, lack of centrally located proper storage facilities remain a major constraint for VBSEs. ICARDA negotiated with Afghanistan Small and Medium Enterprise Development to provide support for constructing a seed storage facility. Behsood VBSE was the first beneficiary where the storage facility was constructed on land provided by one of its members. The model storage facility (15 m x 10 m x 5 m) at a cost of around $13,000 has the capacity of more than 200 MT. The facility will help in maintaining seed quality and seed marketing. Each VBSE will require such facility for its promotion and seed marketing purposes.
Mr. Abdul Latif Babakarkhil, District Administrator and H. E. Haji Fazal Rahim, member of provincial assembly chaired the inaugural ceremony in the presence of farmers from three adjoining districts, and representatives of ASMED, MAIL, ACBAR and ICARDA. H.E Fazal Rahim member of provincial assembly and Behsood VBSE highly acclaimed ICARDA and ADP/E for their excellent contribution for the development of the agricultural sector in eastern Afghanistan. Farmers were very satisfied with the support provided by MAIL, ADP-E and ICARDA particularly in adaptive research, technology transfer and seed provisions through VBSEs and are committed to increase agricultural production and productivity in the face of global challenges in food security.

Khaled Wadan, ICARDA, Jalalabad, Nanagrhar, Afghanistan; E-mail: k.wadan@cgiar.org


ICARDA Organizes Variety Maintenance and Breeder Seed Production Course for Iraq

FAO has been implementing a project on 'Rehabilitation and Development of the National Seed Industry in Iraq'. The objective of the project is to improve food security and nutrition through rehabilitation and improvement of the national seed industry. Capacity development is one of the major objectives where a series of training courses are conducted abroad to enhance and strengthen the seed sector. FAO and ICARDA have formally signed an agreement to organize two month training program on 'Variety Maintenance and Breeder Seed Production' for 5 Iraqi staff from the State Board of Agricultural Research and the State Board of Seed Certification and Testing of the Ministry of Agriculture.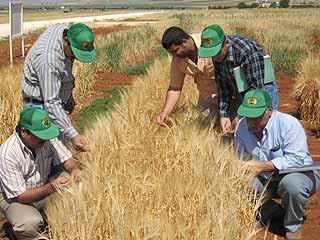 A practical training session in variety maintenance plots at ICARDA headquarters, Aleppo, Syria
ICARDA had organized the course at its headquarters from 1 April to 29 May 2008. The course aimed at developing the participants' knowledge and skills through theoretical lectures and hand-on practical training. The main objective is to train subject matter specialists who will subsequently be in charge of variety maintenance in Iraq and conduct in-country training courses to technical staff involved in the seed sector. The course focused on major cereals (wheat, barley) with highlights on legumes (faba bean, chickpea, lentil) and forages (vetch) and include various topics among others:
Morphological variety description and data analysis;

Concepts and principles of variety maintenance and breeder seed production;

Seed production of subsequent generations and causes of varietal contaminations.
Field trips were organized to visit the facilities (basic seed farm, variety maintenance plots, seed processing center, tissue culture laboratory, seed testing laboratory) and commercial seed production, and quality assurance activities of the General Organization for Seed Multiplication in Syria.

Abdoul Aziz Niane, ICARDA, Aleppo Syria; E-mail: a.niane@cgiar.org and Rai Ajambar, FAO-Iraq, Amman, Jordan; E-mail: ajambar.rai@faoiraq.org


Plant variety protection in Morocco

In Morocco, the Plant Variety Protection (PVP) Law 9/94 was promulgated in 1997 in order to enhance plant breeding research and to encourage foreign breeders to introduce well adapted and high performing varieties. This law conforms to 1991 UPOV convention to which Morocco is a member since October 2006. The law has entered into force on 28 October 2002 and to date. two decrees and seven ministerial orders have been published in the official gazette. About 76 species can be protected in Morocco and the list will be updated accordingly. The duration of protection is 20 years for annual species, 25 years for trees and grapevine and 30 years for palm dates.

The Seeds and Propagating Material Certification Service is responsible for the protection of plant breeder's rights. Therefore, the same facilities and competence used for variety registration in the Moroccan catalogue are also used for variety protection; mainly for conducting tests of distinctness, uniformity and stability (DUS). For varieties already protected in other countries, the results can be transferred from the official services of the country of origin and the applicant is accounted for the charges.


| | | |
| --- | --- | --- |
| Crop species | Number of varieties under examination | Number of protected varieties |
| Field crops | 5 | 55 |
| Potato | 21 | 34 |
| Strawberry | 5 | 5 |
| Trees | 15 | 27 |
| Vine | 21 | 2 |
| Rose | 2 | 1 |
| Total | 69 | 124 |

A gazette 'Bulletin de la protection des obtentions végétales' is published twice a year, in April and September to inform the public, and mainly the claimants/owners, about the variety presented for protection and the varieties being protected under the law. Since October 2002, enforcement date of PVP law, 124 certificates were issued, 55 belongs to the National Institute of Agronomic Research (INRA); and 69 applications are under examination, 5 belongs to INRA (see table below). The applicants for protection are from Morocco, Europe, South Africa, and USA.

Ammar Tahiri, DPVCTRF, P.O. Box 1308, Rabat, Morocco; E-mail: amar.tahiri@gmail.com

Pakistan launches vegetables seed production program

Pakistan requires around 6000 t of vegetable seed annually. About 713 t of seed was produced locally under the supervision of FSCRD in 2005/06; and continue depending on seed import. In 2006/07, the country has imported 5805 tonnes of vegetable seed and spent PKR 862,495,862 (USD 1 = 66.8 PKR) importing vegetable seed, 27% of the value of all seed imports. The government launched a new project 'Establishment of Facilitation Unit for Participatory Vegetable Seed and Seedling Production Program' and called for collaboration with domestic and foreign companies.

The main objective of the program is to acquire elite vegetable genetic resources from external sources; collect, , characterize, purify and multiply seed of indigenous vegetables; acquire seed drying, cleaning, coating, pelleting and packaging equipment; and employing international experts to train technical staff, seed producers and vegetable growers. Within this context seed companies are encouraged for direct investments or joint ventures to extend cooperation for provision of genetic resources, seed conditioning plants and licensing agreements for local production and marketing.

The project will establish 10 units across Pakistan where such arrangements would be provided. These units will be comprised of private seed companies which will enter into agreement to abide by IPR issue, royalties and investment in technical staff and use of genetic resources. The project will facilitate the participatory units for commercial hybrid seed production. The project has inbuilt fund provision to pay for materials and consultants. It also envisages introducing vegetable nursery production by acquiring controlled environment facility through the project.

Akhlaq Hussain, FSCRD, G 9/4, Mauve Area, Islamabad, Pakistan; E-mail: akhlaq7@hotmail.com

View the entire SEED INFO - Official newsletter of the WANA Seed Network No. 35, July 2008