Chatham, Ontario, Canada
September 26, 2008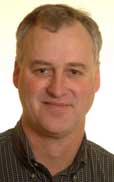 Pioneer Hi-Bred Limited recently named Harry Bekkering as livestock end-use specialist for western Canada. Bekkering will focus on customers' needs in the beef, dairy and forage industry and manage the communications flow between Pioneer and western Canadian producers.

Bekkering will be based in Calgary, Alberta. He holds a bachelor's degree in management from the University of Lethbridge. Bekkering has worked for Pioneer for 18 years as a district sales manager and as a forage specialist in Alberta and Saskatchewan.

In his new position, Bekkering will be working with the western Canadian sales force to share information on Pioneer® brand corn hybrids, forages, silage and inoculants with beef and dairy producers. Pioneer is continuing to expand research and development efforts in forages, specifically for dairy and beef producers in western Canada, and Bekkering will bring added focus and resources to the growing Pioneer team.

"My position allows me to work closely with dairy and beef producers to help them gain knowledge about Pioneer corn hybrids, forages, silage and inoculants and to share information from our extensive research efforts," Bekkering says. "My goal is to help farmers become more profitable by using Pioneer products and services."

Established in 1946, Pioneer Hi-Bred Limited is Canada's premier seed company and a wholly owned subsidiary of Pioneer Hi-Bred, a DuPont business. Pioneer Hi-Bred is the world's leading source of customized solutions for farmers, livestock producers and grain and oilseed processors. With headquarters in Des Moines, Iowa, Pioneer provides access to advanced plant genetics in nearly 70 countries.

® ™ SM Trademarks and service marks licensed to Pioneer Hi-Bred Limited.