London, United Kingdom
March 10, 2009

Monsanto's historic investment in research and development in breeding and biotechnology has contributed to a
24 percent compound annual growth rate for the company's Seeds and Genomics segment since 2001. This is one of the key messages Kerry Preete, Monsanto's Vice President of International Commercial, will tell investors today as part of a presentation at the Credit Suisse 14th Annual Global Ag Productivity Conference in London.

"Our R&D investment in technology has allowed us to build a robust pipeline of game-changing products focused on yield and stress," Preete will say. "We continue to be the leading company delivering innovations to farmers that help them maximize their farm's potential. That technology leadership has allowed us to commit to more than doubling our gross profit from 2007 through 2012 as we expand the availability of our technologies to farmers around the world."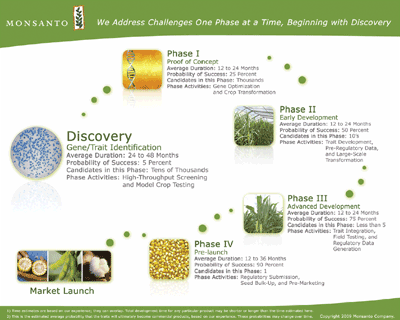 The company recently applied to the U.S. Department of Agriculture (USDA) for approval of its drought-tolerant corn product, following submission to the Food and Drug Administration (FDA) last December. It also has completed submissions to the relevant Canadian agencies. In its final pipeline phase, this first-ever biotech drought-tolerant corn is part of a family of drought-tolerant products Monsanto plans to bring to the market over the next decade. This marks another key milestone in bringing this product one step closer to farmers and makes it the only dryland, drought-tolerant corn product to have regulatory submissions both to the FDA and the USDA.

Two new technologies emerging from Monsanto's R&D pipeline are Roundup Ready 2 Yield™ soybeans and SmartStax™ corn. Both products are expected to change the face of farming and bring farmers new tools to enhance productivity. SmartStax will be the most durable and complete on-farm package for weed and pest management, and will be the platform for the company's future corn technologies. Roundup Ready 2 Yield is expected to deliver a 7 to 11 percent yield benefit and will be the trait platform for future yield-enhancing soybean technologies.

Preete will note that the technologies that have lifted yields, lowered costs and increased productivity for U.S. farmers are rapidly becoming available throughout Latin America, particularly for new corn traits in Brazil and Argentina. "The combination of our high quality hybrids with new tools for insect protection through biotechnology have allowed us to gain share in Latin America this fiscal year, and have set the stage for the acceleration of the penetration of new trait technologies as we look to 2012," he will say.


Monsanto's R&D Pipeline
Discovering. Delivering. Yielding.
As a company 100 percent focused on agriculture, delivering innovation to the farm is the focus of Monsanto's R&D. Through investments in breeding and biotechnology, we're working hard to deliver products that make farmers more productive and profitable. We invest more than $2 million a day to discover and deliver innovative technologies that make a difference to farmers and the land they farm. Our research supports both the agronomic and the value-added needs of our customers. By investing in products that make a difference for the farm, we're supporting the future of agriculture and the future of farming.
Pipeline Updates for 2009
Corn Yield Drought 1 Tolerant (Drought-tolerant Corn)
Phase: 3 to 4
In the fourth-annual R&D pipeline update, the company's drought-tolerant corn – the first-ever biotech crop with that trait – moved into Phase 4, the last phase before commercialization. This phase includes development and testing of best trait and germplasm combinations for commercial launch.
Genuity™ SmartStax™ Corn
Phase: 3 to 4
Genuity™ SmartStax™ corn is the first, most durable and highest-yielding package for total weed and bug control in corn. In the fourth-annual R&D pipeline update, Genuity™ SmartStax™ moved into Phase 4, the final step prior to the product's planned 2010 commercial launch, pending regulatory approvals. This phase includes development and testing of best trait and germplasm combinations for commercial launch.
Soy Yield Intrinsic Development (Higher Yielding Soybean)
Phase: 2 to 3
Higher-yielding soybeans moved into Phase 3 – and another step closer to farmers' fields – in the fourth-annual pipeline update. Regulatory trials are planned for this summer.
Dicamba Glufosinate Cotton (Dicamba tolerant cotton)
Phase: 1 to 2
Monsanto's Dicamba-resistant cotton has moved to Phase 2, where it will be undergoing lab and field testing of genes in plants to select commercial product candidates and to meet regulatory requirements.
New Projects
Two new products were added to Monsanto's R&D pipeline in the fourth annual update.
Second-generation, insect-protected Genuity™ Roundup Ready 2 Yield™ soybeans and insect-protect, Roundup Ready sugarcane


Monsanto Company is a leading global provider of technology-based solutions and agricultural products that improve farm productivity and food quality.
Monsanto remains focused on enabling both small-holder and large-scale farmers to produce more from their land while conserving more of our world's natural resources such as water and energy. To learn more about our business and our commitments, please visit: www.monsanto.com .