West Lafayette, Indiana
July 1999

Each summer, armies of mowers move across the land to manicure large expanses of turfgrass.

What a waste of time, money and opportunity, says Michael Dana, Purdue University professor of horticulture.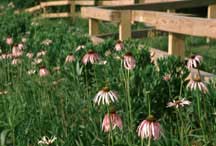 He advocates growing native wildflowers instead.

He says wildflowers, which include native prairie grasses and broadleaf flowers, offer many advantages, including environmental ones, over large expanses of trimmed turf.

"For people who like a highly controlled landscape with, for example, Japanese yews clipped and sheared, this has little appeal," Dana says. "But a fundamental environmental ethic is embodied in planting native species. I view it as an underutilized plant group. From the environmental diversity aspect alone, native wildflowers are worth including in our landscaping options."

Native plantings work well in large, full-sun areas, such as those found on industrial sites and golf courses, in highway medians, and in some farm areas. Native grasses are even acceptable on some Conservation Reserve Program lands, except lands that are in danger of erosion or those that are forested.

Dana says that native wildflower plantings have a mixture of forbs, which are wild flowering herbs, and flowering prairie grasses.

Among the forbs that Dana recommends are gray-headed coneflower, bee balm, prairie phlox, tall tickseed, Culver's root, obedient plant, butterfly weed, compassplant, prairie dock, pale purple coneflower and prairie blazing star.

Recommended grasses include big bluestem, indiangrass, side-oats grama, little bluestem and switchgrass. Dana has compiled a list of sources for seeds and plants and posted it on the Purdue Consumer Horticulture Web.

"I'm not a 'natives are always better' advocate," Dana says. "In fact, when we talk about urban landscapes, native plants can be poorer landscape performers than non-native species. But in the proper setting, native grasses and wildflowers do very well. A wildflower planting has several advantages over just mowing these areas. Doing that is just a large expense, and boring, too."

According to Dana, wildflower areas offer these advantages:
They are environmentally friendly: "With wildflowers you don't expend fossil fuels or introduce fertilizers or pesticides into the environment."
They increase landscape diversity: "Remnant native plant communities may contain 60 to 80 different species in a limited area. Typical plantings do not achieve that much diversity, but throughout the season there are different plants coming into bloom and going out, changing color. It is especially enriching for the people who are regular site users, like the employees of a company who pass by a planting each day."
Native plants require less labor: "Except for getting a group of people together for a prescribed burning every three years, there really isn't much maintenance required for an established prairie wildflower planting."
Dana cautions that those who are serious about planting wildflowers will soon encounter wildflower snobbery. There are those who say that if you bring in seed or plants from another area or state, even if it once was native in your locale, that it's not truly a "native." "The reality is that there are very few sources of seeds of native species," Dana says. "So if you're going to plant 100 acres, you may have to go out of your locale or state to get enough seed.

"I take a horticulturist's view. The merits of saving biological diversity must be balanced with the practical view that little bluestem is basically little bluestem no matter where it comes from. It's likely that there are some small genetic differences between plants from different areas, but the differences would be insignificant to most people."

Of course, there are disadvantages to planting an area to native flowers and grasses. "It comes with a little baggage," Dana says. "You have to be willing to accept the wild look. This is not a refined, manicured plant community."

Dana says that the beauty of a native wildflower garden is in its richness and variability, but that variability can bring other problems.

"There is an increase in all aspects of biological richness, most of which is of no concern to humans," Dana says. "But it's true that things such as ticks may be in the grasses, so if you go tromping through the wildflower area you'll encounter more creatures than if you walk down a fairway."

Dana hastens to add that this biological bounty has its benefits. "There will be more snakes, but there will also be more bluebirds, more woodchucks, more of the other types of animals and birds that people enjoy. When you increase the diversity in the flora, you have greater diversity in the fauna."

Dana recommends against planting "garden" wildflowers, which go under many names. His favorite of a few years back was called "meadow in a can." "That's not going to last for a long time," he says. "What we're after is a stable community of grasses and forbs. Once it is established, it is a 'permanent' plant community, like a forest."

Once a native wildflower plant community is established, Dana says, maintenance needs are minimal. "The optimum way to manage native prairie is to burn manage once every three or so years," he says.

"You can do a lot of weed control with burn management. However, there are cases where prescribed burning isn't feasible, such as near flammable liquid storage. Also, any open burning near a building's air intakes for ventilation can pull smoke into the building. In locations where burning isn't an option, mowing every two to three years and occasional spot use of herbicides are an alternative."

More information about native plants in the landscape and how to care for them can be found at these World Wide Web sites:

The Environmental Protection Agency has a Web site on landscaping with native plants. The EPA site includes an online handbook on building and maintaining a native plant landscape (including
burning techniques).
The Indiana Native Plant and Wildflower Society Web page has information about native plants for
the Midwest.

The Illinois Natural History Survey Web site provides photos of native plants.

Source: Michael Dana, (765) 494-5923; dana@hort.purdue.edu

Writer: Steve Tally, (765) 494-9809; tally@aes.purdue.edu

Purdue News Service: (765) 494-2096; purduenews@uns.purdue.edu

Photo Caption:

Pale purple coneflowers are just one species of native plants that are attractive and beneficial landscape plants, says Purdue horticulturist Michael Dana. These coneflowers grow at the Kern Memorial Wildflower Garden at Purdue. The garden, which is between Ross-Ade Stadium and Ackerman Hills Golf Course, contains several species of native flowering plants. (Purdue Agricultural Communications photo by Michael Dana.) Color photo, electronic transmission, and Web and ftp download available. Photo ID: Dana.wildflowers
Company news release
N2026 is next