Located in the heart of the world-famous seed production area of southwest Idaho, Basin Seed Company specializes in the development, production and sales of vegetable beans and peas, and dry beans.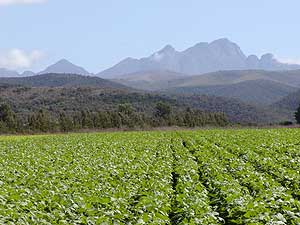 Our experienced staff can provide clients with a range of expert services including contract breeding, stock seed development and maintenance, market-specific trials, disease screening, sales, and "Western Grown" seed.
Basin Seed can produce commercial seed for any of your bean or pea needs on a contract basis. Rely on Basin Seed to develop and maintain stocks of your proprietary or public varieties. We will produce genetically pure, high quality seed stocks of your varieties for further increase by you or by our experienced staff. We are developing quality stocks of several important public varieties including: Oregon 91G, Roma II, Strike, Novella II, Oregon Sugar Pod II, Cascadia, and Sugar Daddy stringless sugar snap pea.
Contact Basin Seed if you have need for stock seed of any other varieties. We will work with you to develop the best possible stocks available.

Contract breeding
Stock seed
Contract trials

hybridization
selection
populations
trait introgression
fast track

clean-up
development
pureline
maintenance
sales

adaptation
disease
breeding
marketing
Africa
Americas