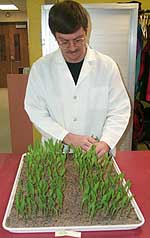 Our well-trained staff of seed professionals is here to serve you. We perform over 200 different types of seed tests on over 300 species of plants. We know the seed testing industry, and we would like to become your full-service seed verification laboratory. The Seed Testing Lab also sponsors numerous workshops throughout the year. Please take a look at our website and then tell us how we can help you and your business.

Some of the common tests include:
Warm and sand germination
Cold and saturated cold
Accelerated aging
Tetrazolium (TZ)
Physical purity
Noxious exams
Herbicide trait testing for Roundup Ready crops
Clearfield and Liberty-Link corn
ELISA testing for corn borer, root worm and stacked traits
Most seed health tests
PCR testing for GMO's
The Seed Testing Lab of the Seed Science Center at Iowa State University provides seed testing services to private and public interests involved in commercial seed production and seed research and development. The laboratory is a member in good standing in the Association of Official Seed Analysts. The Association of Official Seed Analysts (AOSA) is an organization comprised of member laboratories that are staffed by certified seed analysts. Such seed testing facilities include official state, federal, and university seed laboratories across the United States and Canada.
The Seed Science Center Laboratory is also an Official Testing Laboratory for disease testing of seed for export.

The laboratory is recognized by the Iowa Department of Agriculture and Land Stewardship as well as the United States Department of Agriculture as an Official Laboratory.

For more information, visit our website at http://www.seeds.iastate.edu/seedtest/