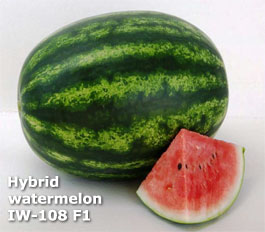 Kanda Seed Co., Ltd. was established in 1951 by the late Takeshi Kanda, a Japanese pioneer in watermelon breeding.

We specialize in the breeding, production and sale of F1 hybrid cucurbits, and we have developed a number of new F1 hybrids which are highly regarded by horticultural producers, both in Japan and overseas.

Our research farm has established itself as a leading center for the breeding of watermelon, melon, cucumber, winter squash and rootstock.

We are constantly striving to develop new and superior hybrids capable of satisfying various agricultural requirements.
Our commercial products are:


Interspecific hybrid winter squash for grafting watermelon, melon, oriental melon, and cucumber

Our catalogue is available upon your request.

Although it is written in Japanese, your inquiries and requests for detailed information about the hybrids listed in our catalogue are always welcome and will be answered in English.

Your continued support of our company and its products is deeply appreciated.