Overview of squash viruses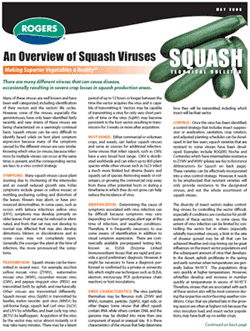 There are many different viruses that can cause disease, occasionally resulting in severe crop losses in squash production areas.
Many of these viruses are well known and have been well categorized, including identification
of their vectors and the vectors' life cycles. However, some of the viruses, especially the
geminiviruses, have only been identified fairly recently, and new strains of these viruses are
being characterized on a seemingly continual basis.
Squash viruses can be very difficult to
identify based solely on host plant symptom expression because many of the symptoms
caused by the different viruses are very similar.
Knowing which virus (or viruses,because infections by multiple viruses can occur at the same
time) is present, and the corresponding vector, are keys to a virus control strategy.