This mobile system is mainly used for rotary threshing of larger capacities of seeds out of plants/capsules or heads in the field.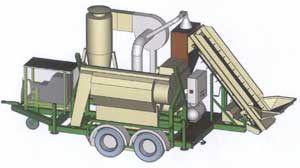 Please CLICK HERE to find more information
and contact us
This machine is mainly used for threshing seeds out of larger capacities of capsules, which are separated from the plant material. Can also be used for threshing breeding material in jute bags. Gentle treatment because of rubber belts, therefore very suitable for sensitive seeds, radish, cabbage, beans, onion or leek.

Please CLICK HERE to find more information
and contact us