New Crop Opportunities, BCPC's electronic farm management aid, hits the news
United Kingdom
October 4, 2010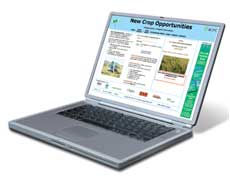 New Crop Opportunities, the electronic farm management aid, launched by BCPC in 2007, has reached an important milestone with the number of 'novel crop' news stories featuring on the website now more than 1,000.
"I think it is true to say that the material we feature on New Crop Opportunities make it the only news source tailored to novel crops and their uses," explains experienced agronomist Dr Sally Francis, editor of New Crop Opportunities. "Our aim is to provide topical and selective news on the all the crops featured in the resource whether they are novel crops or new uses for established crops."
New Crop Opportunities provides a wealth of advice to growers and advisers considering a move to growing alternative crops. Gaining a balanced unbiased perspective helps to make the right decision in taking that step and finding the best solution to suit the farm's location, soil type, water availability, pH and work load. Having access to a resource which provides regular updates on what is happening in the fast moving world of new crop opportunities including new markets, new uses and new technical information such as varieties and agronomy, is a real must.
Subscriptions start at £9.95 + VAT for 24 hour access and £75 + VAT for an annual subscription including regular updates and email alerts about new crop information. For further information, and to subscribe, log on now to: www.newcrops.co.uk
The British Crop Production Council (BCPC) promotes the science and practice of sustainable crop production. A non-profit making organisation, it has developed an international reputation over 50 years as a forum for good practice and sound science in the fields of agriculture, food and the environment. Its conferences, publications and working groups bring together scientists to form opinion on key issues.

More news from: BCPC (British Crop Production Council)
Website: http://www.bcpc.org
Published: October 4, 2010