QualySense appoints Dr. Geoffrey Scott, CEO of Uster Technologies AG to its board of directors
Dübendorf, Germany
27 February 2012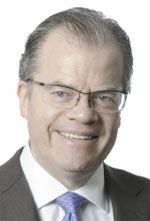 QualySense, an EMPA-based start-up company focused on innovative grain and seeds sorting technology, announces that it has appointed Dr. Scott, CEO of Uster Technologies AG, to its board of directors. In the last 10 years, Dr. Scott has
successfully guided Uster Technologies in becoming the market leader in the area of quality inspection equipment for the cotton and textile industry, and led its IPO in 2007.

QualySense's Chairman of the Board of Directors, Alberto Romaneschi, says: « With Dr. Scott QualySense gains a board member, who brings unique first-in class entrepreneurial, strategic and sales competences to the company. His experience in providing quality inspection equipment to the cotton industry has a lot in common with what QualySense is intending to achieve. In addition we also welcome Dr. Scott as a significant investor».

Dr. Geoffrey Scott, CEO of Uster Technologies AG, says: «QualySense is at an exciting time in its development, now launching its first products into a market with huge potential. The business model, founded on the principle of providing value-add to clients through analysis, standards and focus on quality, is one that I am very familiar with. I am looking forward to the opportunity to contribute to the next stages in QualySense's evolution as a company».
More news from: QualySense AG
Website: http://www.qualysense.com
Published: February 27, 2012