Valley Irrigation granted rice production process patent
Valley, Nebraska, USA
May 15, 2012
Valley Irrigation, the leader in precision irrigation, has recently been granted a patent by the United States Patent and Trademark Office, recognizing the company for its ground-breaking achievements in the production of rice under mechanized irrigation. Valley Irrigation is committed to increasing the world's food supply, while preserving fresh water resources through efficient irrigation. Though Valley Irrigation holds the patent for the rice development process under mechanized irrigation, Valley is making this patented process available to farmers and organizations, royalty free.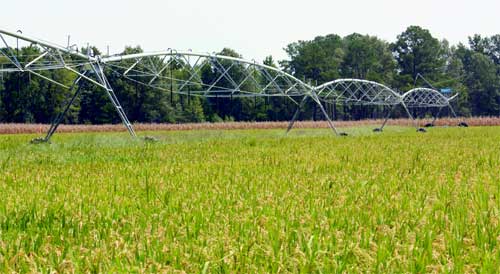 "We at Valley Irrigation pursued this process patent to demonstrate our commitment to successfully using center pivots, linears, and corner machines for the production of rice, beyond just selling product," said Jake LaRue, Director of Product Development and Support. "With this process patent, we not only help growers be more successful and profitable, but also create a way for rice to be grown in a more environmentally friendly manner, by conserving water and other resources."
Through a project called Circles for Rice, Valley Irrigation has been conducting commercial research on rice production under center pivots, linears, and corner machines since 2008. Both research and field trials have been, and continue to be, conducted in an effort to conserve resources and farm inputs, increase grower profitability, and produce food for the world's growing population. Throughout the years, Valley Irrigation has supported over 30 commercial rice fields worldwide.
More information on the project, as well as a royalty free licensed copy of the Valley Irrigation Circles for Rice Production Guide, can be found on www.CirclesForRice.com.
The Valley brand is recognized worldwide as the leader in sales, service, quality and innovation, and has been recognized as such since Valmont founded the mechanized irrigation industry in 1954. With historical sales of more than 175,000 center pivots and linears, Valmont-built equipment annually irrigates approximately 17 million acres (6.9 million hectares) around the world. The Nebraska-based company remains dedicated to providing innovative solutions now and well into the future.

More news from: Valley Irrigation
Website: http://www.valleyirrigation.com
Published: May 15, 2012