Crop sequence calculator now online
Western Australia
June 7, 2012
A new online tool to assist grain growers to evaluate planting options is now available.
The WA Crop Sequence Calculator can be accessed at no cost via the Department of Agriculture and Food's website and was developed with funding assistance from the Grains Research and Development Corporation.
The calculator enables grain growers to compare crop sequence options, also known as crop rotations, based on field trial results and historical data.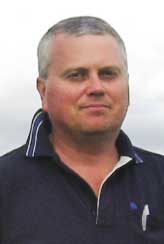 Department senior research officer Mark Seymour (photo) said decisions about what to sow after different crops had become crucial in the face of climate variability and fluctuating markets.
"Growers can use the information from the WA Crop Sequence Calculator to optimise their profitability by examining the yield potential for a specific combination of plantings in relation to grain prices," Mr Seymour said.
"Nowadays growers are more market savvy and are inclined to target particular crops to improve gross margins, rather than stick to traditional crop rotations."
The WA Crop Sequence Calculator is backed by four years of extensive field trial data from the Katanning Crop Sequence Trials. Later in the season further data from similar trials at Wongan Hills will be incorporated.
Mr Seymour urged growers to familiarise themselves with the online model this year so they could apply the tool with confidence next season.
"The site is very easy to use," he said. "There is a three year scenario where users input their crop sequence, yield, price and costs, from which the calculator determines the gross margin over that period.
"Growers can compare their thoughts on potential yields with that of the trial sites to get a feel for what combination of crops will achieve their goals for their cropping program."
To access the WA Crop Sequence Calculator visit the department's Grains Gateway at www.agric.wa.gov.au where there is a range of up-to-date information and resources for growers.

More news from: Western Australia, Department of Primary Industries
Website: http://www.agric.wa.gov.au
Published: June 7, 2012