Pöttinger brings its international strength to Great Britain
Grieskirchen, Austraia and Corby, Northamptonshire, United Kingdom
June 22, 2012
On the 1st September 2012 Pöttinger, one of the most well known producers of agricultural machinery in Europe, will establish a new subsidiary in Great Britain: Alois Pottinger UK Ltd. will be responsible for the whole product range (grassland, soil and seeding) across the British Isles. The Austrian mechanical engineer brings together its strength, in order to increase systematically its market share in Great Britain.
International customer care

At Pöttinger, customer care also means being close to the customer in terms of distance. For this reason the family-run business pursues a policy of continuous expansion for its sales and service network. Pöttinger's approach guarantees fast availability and optimum customer service nationwide. Besides the three international production facilities in Austria (Grieskirchen), Germany (Bernburg) and the Czech Republic (Vodnany), the company is also represented by a number of sales subsidiaries in Germany, France, Italy, Switzerland, Canada, Australia etc. Now also with the latest addition in Great Britain: Alois Pottinger UK Ltd.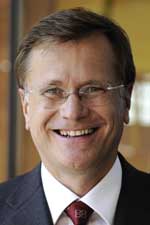 Pöttinger machinery has been available in the UK market via the official Pöttinger importer Landmec for nearly twenty years. A strong existing dealer network is already in place throughout the whole of UK will be supported by the new subsidiary.

"The UK is a key market for us, therefore to reflect its importance we have taken the step of forming our own subsidiary", declared CEO Heinz Pöttinger (photo right). "Our motto "More success with Pöttinger" is more than just a promise to our customers."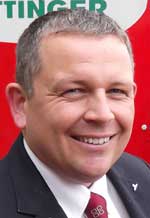 The new subsidiary in the UK is located in Corby, Northamptonshire and commences its business activities as of the 1st September. A reliable and experienced team with Shaun Groom (photo left) as General Manager will ensure continuity in the supply of machines and all aspects of after sales services in the United Kingdom.
Investing today in the success of tomorrow

Pöttinger's innovations and achievements today, such as the global leadership in the loader wagon segment, the pioneering role in the field of front-mounted mowers and the many years of experience in soil cultivation and seed drills, form the basis for the future success. "At Pöttinger we are well positioned to respond to the machinery needs of British farmers and contractors. Offering a comprehensive, innovative range backed up by a strong team in the UK, we look forward to doing business with customers old and new", comments Shaun Groom.

More news from: Poettinger Maschinenfabrik Ges.m.b.H
Website: http://www.poettinger.at
Published: June 22, 2012