American Seed Research Foundation recognizes Rodrigo Pedrozo of Kansas State University with the Roger Krueger Memorial Scholarship
Alexandria, Virginia, USA
June 22, 2012
The American Seed Research Foundation (ASRF) recognized Rodrigo Pedrozo of Kansas State University with the Roger Krueger Memorial Scholarship during the American Seed Trade Association's 129th Annual Convention June 21 in National Harbor, Md.

The scholarship endowment, established in 2008 by the American Seed Research Foundation, is in honor of Roger Krueger who devoted his professional career to seeds and advocating the role of science in feeding the world.

The native Brazilian is working to complete his doctorate in seed pathology and seed borne pathogens. His research project is titled "Etiology mechanisms of infection and transmission of Fusarium Spp."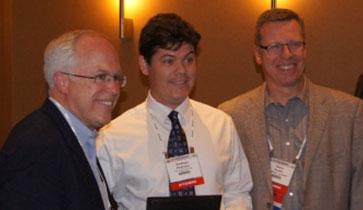 American Seed Research Foundation's Jim Tobin and Glenn Austin of the Monsanto Company award
the Roger Krueger Memorial Scholarship to Kansas State University PhD student Rodrigo Pedrozo

"Pathogens associated with seed can cause decreased germination and this can result in lower yields," Pedrozo said. "Seeds carrying disease propagules have the potential to introduce devastating diseases to U.S. crop fields."

Pedrozo studies eight Fusarium species. He hopes to learn which species should Kansas farmers be concerned about and which one is most detrimental. Another aspect of his research is trying to identify if the pathogen isolates can reach the seeds through internal or external transmission and if so at what percentage. Pedrozo is in the second year of his PhD and will continue this project for another three.

The scholarship recipient is chosen by a group of seed research experts who are ASRF members.

"I was impressed with the quality and variety of projects," said Jim Tobin of Monsanto Company who was on the scholarship committee.

ASRF was established in 1959 to encourage research in plant and seed biology and to facilitate the transfer of resulting technology to benefit the seed industry, farmers and consumers on a global basis. The foundation supports public research in plant and seed biology, applied research projects with broad or crop-specific applications, public-private cooperation in seed-related research and educational opportunities in seed-related sciences.

More news from: ASTA - American Seed Trade Association*
Website: http://www.amseed.org
Published: June 23, 2012