AVRDC and the African Seed Trade Association sign a memorandum of understanding
Tainan, Taiwan
July 27, 2012
Source: News from AVRDC - The World Vegetable Center
The African Seed Trade Association (AFSTA) was formally established in 2000 as a regional representative body for the seed industry that could also serve to promote the development of private seed enterprises. Its offices are located in Nairobi, Kenya. AFSTA currently has 92 members, including seed associations, associations and companies from outside Africa, government departments, nongovernmental organizations, seed companies and service providers.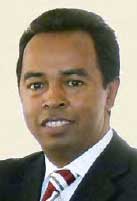 During the AFSTA 2012 Congress in Zanzibar, Tanzania in March, Jackie Hughes (AVRDC Deputy Director General – Research) and Abdou Tenkouano (Director, AVRDC Regional Center for Africa) discussed with AFSTA's Secretary General Justin Rakotoarisaona (photo) the opportunities and potential synergies between AVRDC and AFSTA if the relationship could be made formal.

After further exchange of views, a Memorandum of Understanding between the two organizations for general collaboration over an initial five year period was signed in June 2012 by AVRDC's Director General Dyno Keatinge and Jitu Shah, President of AFSTA. The envisaged collaborative work may include activities on improved vegetable lines and trials, support for the private seed sector, formulation of policies, and other mutually beneficial activities.
More news from:
. AFSTA (African Seed Trade Association)
. AVRDC - The World Vegetable Center
Website: http://www.afsta.org
Published: July 27, 2012