New triticale variety Fusion: star performer in tough seasons
Australia
November 2, 2012
Australian Grain Technologies (AGT) has announced the release of a new triticale variety suited to all growing areas, recording high yields in difficult seasons and offering improved levels of disease resistance.

The new variety, named Fusion (tested as TSA0291), is broadly adapted to all triticale growing regions of New South Wales, Victoria and South Australia.

Breeder Britt Kalmeier, based at AGT's Roseworthy breeding program in SA, said Fusion had been included in GRDC-funded National Variety Trials (NVT) since 2010 and had achieved very high yields relative to other varieties in tough seasons, while yielding equal to comparatives in good years. Fusion's best relative yields have been recorded in southern NSW.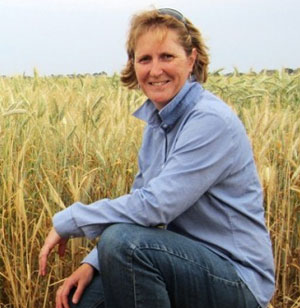 Australian Grain Technologies triticale breeder Britt Kalmeier, with the new Fusion triticale variety.

A potential replacement for Hawkeye and Jaywick, Fusion also offers an improved disease resistance package compared with alternative varieties.

"Fusion is a very low risk triticale variety due to its high levels of resistance to stem, stripe and leaf rust as well as its resistance to CCN (Cereal Cyst Nematode),'' Mrs Kalmeier said.

AGT's Southern NSW / Northern Victoria Territory Manager Jim Lamb said Fusion was the result of a unique cross between the triticale variety, Everest, and unreleased bread wheat, Stylet.

"Fusion will be an attractive option for triticale growers looking for a tall and highly prolific plant type that produces high and stable yields,'' he said.

Seed of Fusion triticale for the 2013 season will be available through AGT affiliates and seed resellers.

Download Fusion fact sheet
More news from: Australian Grain Technologies Ltd. (AGT)
Website: http://www.ausgraintech.com
Published: November 2, 2012