Clause wins another "Tomato Excellent" prize with Creativo
Valence, France
November 13, 2012
For the second year running, Clause has earned the "Tomato Excellent" prize for cherry tomatoes. This year, it's the CREATIVO variety that took home the honors.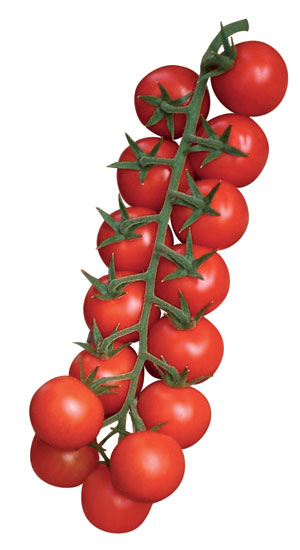 CREATIVO features advantageous characteristics for both producers and operators. Producers appreciate the robust character of the plant and its flexibility for short and long crops during over-winter production. Its resistance to diseases is another significant advantage, especially concerning TYLCV and Cladosporiosis. For growers, CREATIVO guarantees success with high quality fruit that has firm flesh and doesn't crack. The variety is also successful with operators because it holds up well after harvesting and has a long post-harvest shelf life which are both essential criteria for exporting fruit.
The Clause teams' fastidious breeding work has once again been recognized. CREATIVO follows in the footsteps of GENIO which won the Tomato Excellent prize in the same category last year. With two consecutive wins for different varieties of cherry tomatoes, Clause has established its position as the market leader for cherry tomatoes in Sicily.
Tomato Excellent is a national competition among Italian seed producers to award the prize for the best tomato varieties. These varieties are judged on their organoleptic characteristics, their capacity to adapt to local conditions, disease resistance and national and international competitiveness. The aim of this competition is to promote genetic research and innovation and to highlight Sicilian products.
CLAUSE breeds, produces and markets innovative vegetable seeds for professionals. The company has more than two centuries of experience. It is the leader on the French vegetable seeds market.
In 2008, CLAUSE (France) and HARRIS MORAN (USA) were grouped together under the HM-CLAUSE Business Unit. Entirely devoted to vegetable seeds, this entity is ranked fourth worldwide in its sector. HM-CLAUSE generated more than Euros 230 million in turnover in 2012 and employs more than 1,300 people. Its investments in Research and Breeding represent 14% of annual sales. Its breeding activities concern more than 20 different species. HM-CLAUSE has commercial subsidiaries in 14 countries: Mexico, Brazil, Argentina, Chile, Spain, Italy, Algeria, India, Thailand, Indonesia, Turkey, Poland, Guatemala and Australia.
HM-CLAUSE is a Business Unit of Limagrain, an international agricultural co-operative group, specialized in field seeds, vegetable seeds and cereal products. Founded and managed by farmers, Limagrain is the first European seed company and 4th largest seed company in the world.
More news from:
. Clause SA
. HM.Clause S.A.
. HM.Clause
Website: http://www.clause-vegseeds.com
Published: November 13, 2012