A robust perennial pasture legume from the Canary Islands could prove to be a salvation to farmers in Western Australia
South Perth, Western Australia
January 27, 2010
A robust perennial pasture legume from the Canary Islands could prove to be a salvation to farmers, particularly over the long, dry summer when there is a shortage of stock feed.
The Department of Agriculture and Food is trialling two drought tolerant Tedera species, Albo and Teide, which could also have frost tolerance characteristics, as part of a Future Farm Industries Co-operative Research Centre project.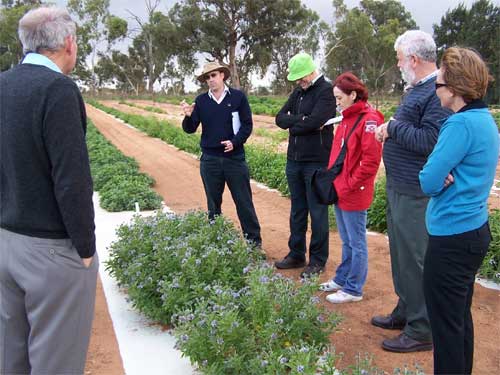 Senior plant breeder Dr Daniel Real (centre) shows visitors from the Future Farm Industries CRC how the Tedera project is progressing at DAFWA's Medina research station in August.
Department plant breeder Daniel Real said both Tedera species had performed extremely well since they were established in 2006 at trial sites at Buntine, Merredin and the Newdegate and Medina Research Stations.
Dr Real said the leafy green bush established well this year at the department's Mount Barker Research Station.
"This plant can do well in both high and low rainfall areas," he said. "We have been able to ground truth in WA what we have learnt about the use of Tedera from its use for hundreds of years as a goat feed in the Canary Islands. It grows very well all year round, but flourishes in the summer and recovers quickly after grazing."
Dr Real said both varieties had proven to be very resilient at the Newdegate Research Station and the Liebe Group's long term research site at Buntine following some dry seasons.
"The Newdegate trial site recovered well after it was hit by the 2006 locust plague and was flourishing again just three months later," he said.
"A sheep grazing trial also showed it recovered quickly, with leafy bushes available just 45 days after grazing in December 2008."
Dr Real said the Tedera species had excellent nutritional value, in addition to providing nitrogen to the soil.
"Tedera's digestible energy levels are very high in comparison to other perennials," he said. "A quality assessment in April 2008 showed 20.3pc crude protein, 71.3pc dry matter digestibility and 10.65 MJ/kg DM metabolic energy."
Meat quality trials have also been undertaken by the department to assess the effect of the exclusive use of Tedera on meat taste and animal health.
"This plant could be the only source of green feed over the summer so we wanted to see how the animals performed," Dr Real said.
"While there appears to be no meat taint or impact on sheep health, more trials are required to evaluate livestock performance in different situations."
Three years into the six year project, Dr Real and his team are ready to select parent plants to begin a breeding program in 2010.
"We need to find out what diversity we have in the collection and then recombine the important traits we need like dry matter and seed production," he said. "This is a long term project and it will be about five or six years before we have something for seed companies to develop. But even at this early stage, there is great potential for the use of this perennial legume in WA."
More news from: Western Australia, Department of Primary Industries
Website: http://www.agric.wa.gov.au
Published: January 27, 2010