Hazera Genetics promotes new secure seed packaging to help ensure customer satisfaction
Shikmim, Israel
December 27, 2005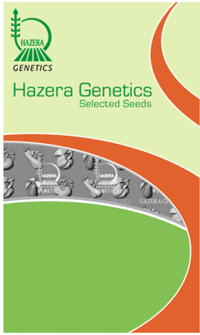 Hazera Genetics today announced introduction of a new secure seed packaging for selected markets in order to help ensure high customer satisfaction. The new packaging incorporates advanced security holographic feature to prevent distribution of counterfeit seeds under Hazera Genetics name.
"As a customer-centric company, Hazera Genetics is always striving to improve the overall experience for growers. Hazera Genetics believes these security enhancements provide customers a fast, effective way of authenticating Hazera Genetics seeds packaging, and also help better protect their consumer rights upon purchase", said Eran Shafrir, Head of Marketing, Hazera Genetics. "In some markets growers interested in Hazera Genetics' varieties, bought counterfeit seeds since the packaging resembled Hazera Genetics' packaging. When these seeds were sowed, the growers were disappointed to find the varieties did not meet the well known standards of Hazera Genetics. Upon examining the seed packaging more carefully, the growers realized that while not identical the packaging was similar enough to Hazera Genetics' packaging to mislead them to believe they are buying Hazera Genetics original seeds.
The new packaging was designed along Hazera Genetics' corporate identity design that can also be found in company advertisements, product support literature and other publications. The design reflects Hazera Genetics' traditional concern for sustainable environment, as well as company's innovative and dynamic characteristics. The security holographic feature on Hazera Genetics' new seed packaging is unique and was designed specifically to meet Hazera Genetics' needs. Reproduction of the security holographic feature requires state of the art equipment and know-how that would prevent a possible reproduction by an unauthorized entity.
By promoting a newly designed packaging with security holographic feature using one of the most secure authentication technologies available, Hazera Genetics is committed to helping customers more easily authenticate Hazera Genetics products. Genuine Hazera Genetics seeds purchased through an authorized distributor or reseller helps ensure that customers are receiving a high quality and performance seeds of varieties bred and distributed by Hazera Genetics that meet rigorous qualification requirements.
Hazera Genetics is an innovative leader in breeding, producing and marketing of hybrid vegetable and field crop seeds. For over 65 years, Hazera Genetics' top quality seeds provide unique added value to customers and consumers worldwide.

More solutions from: Hazera Genetics Ltd.
Website: http://www.seedquest.com/id/h/Hazera.htm
Published: December 27, 2005