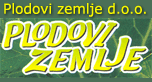 Plodovi zemlje d.o.o.
K. Zvonimira 187 a / street
Šibenik 22 000Croatia
E-mail: info@plodovizemlje.hr
Tel: +385 22 331 966
Fax: +385 22 331 972
Web: www.plodovizemlje.hr
Plodovi zemlje company has a long tradition of supplying commercial growers with high quality vegetable seed.
We are commited to providing a high quality product and building long term business relations with customers worldwide.
We are offering specialized soil energy fertilizers and improvers for the seed production to seed producers.
Product line:

Field & farm seed
Bean
Bean, broad/faba
Bean, garden
Chickpea
Peas

Herb seed
Arugula/Rocket
Chives
Fennel
Parsley

Trees & shrubs
Asparagus

Vegetable seed
Artichoke
Arugula/Rocket
Asparagus
Bean
Bean, broad/faba
Bean, garden
Beet
Broccoli
Cabbage
Cauliflower
Celery
Chickpea
Chicory
Chicory, Hearted Chicory, green types
Corn salad / Mache
Cucumber
Eggplant (Brinjal)
Endive
Fennel
Kohlrabi
Leek
Lettuce
Melon
Okra
Onion
Parsley
Peas
Pepper
Pumpkin
Radish
Spinach
Swiss chard
Tomato
Watermelon