1. At Incotec, before we prime lettuce seed we first evaluate its quality using a group of quality measurements and tests called a suitability. An important test to determine if the seed needs priming because of a low tolerance to temperature is the thermogradient table.

2. Seed is planted on a thermogradient table. The table exposes seed to different temperatures, in a range from 16° C to 36° C (61° F to 97° F). As the temperature increases above 30° C, the increase in heat will prevent some seed from sprouting.
For instance, consider the situation where 100% of the seed germinates at 26° C and 50% germinates at 30° C and 0 % germinates at 32° C. The difference in germination is entirely caused by heat.
As the temperature gets higher, more and more seed refuse to germinate. In effect, it is too hot and those seed will not sprout unless the temperature drops.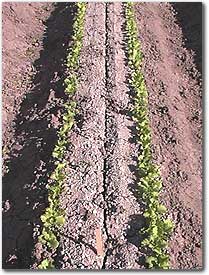 3. If the seed stays too hot, for too long, the seed will become dormant and will no longer sprout, even when cooled off. These seed have become thermodormant. In other words, exposure to temperatures above the seed's tolerance caused them to become dormant. Once dormant, the seeds are still alive, but it may be weeks or even months before they will sprout.
4. How does this relate to field conditions? Nonprimed seed have a lower tolerance to temperature and are more susceptible to thermodormancy than primed seed. In effect, priming raises the tolerance of the seed against high temperatures and so helps prevent the seed from going into thermodormancy. Thus priming is a type of insurance against two bad situations.
The first problem is when temperatures strongly delay sprouting over many days causing a slow, erratic emergence. In this situation, the numbers of seedlings are usually reduced, but the real problem is the wide range in seedling size. The second problem occurs when the heat lasts long enough to cause thermodormancy and a stand is not made (the field is usually plowed under as a loss).
5. Incotec often offers the option that a seed lot can be pelleted without first being primed. However, this is always done with the understanding that the seed will be planted into conditions where heat will not be a limiting factor.