SDR technology - Improving spinach seed production
ARE YOU LOOKING FOR A SOLUTION TO IMPROVE YOUR SPINACH SEED PRODUCTION?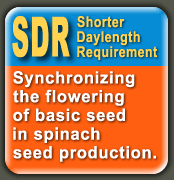 You may want to try INCOTECís SDR.
Seed companies are constantly faced with matching the quality of the seed they produce with market requirements.
Seed companies are looking for ways to reduce production costs while maintaining the quality of the seed they produce and increasing seed production yield per hectare.
To achieve these goals, seed companies are striving to produce their seed under the best possible seed production conditions.
A breeder can develop the best parent lines, but if the parent lines do not perform at an optimal level during seed production, optimal seed quality will not be reached.
INCOTEC therefore initiated research to assist seed companies improve their production of spinach seed. We are calling this process SDR - Shorter Daylength Requirement.
The SDR process that we developed will synchronize the flowering of basic seed in spinach seed production.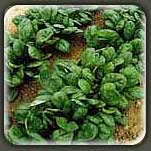 By treating the female line with SDR, the female line will germinate faster and more uniform. Bolting should occur earlier (approx. 7 days earlier compared to untreated seed).

In intensive trials it has been observed that the yield per hectare after SDR treatment of the female line increased by as much as 10%, depending on climatical conditions.

If your company is facing seed production issues as described above and would like methods to improve seed production of spinach, we encourage you to test INCOTECís SDR treatment on your genetic material.

As in most cases when adding value to seed, an SDR trial production is recommended. Field results will give an indication on how effective the SDR treatment may be on your speicific parent lines.

Please contact us if you are interested in learning more about this new added value technology for improving your spinach seed production.