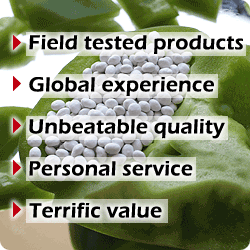 Why Harris Moran coatings?
At Harris Moran we want our seed to reach its full potential in the grower's field.
That's where seed technology comes in.
The Harris Moran edge
Along with our own staff of experienced seedsman and seed physiologists, we have sister companies around the world that also sell vegetable seed. Together we share information and techniques.
This communication gives us an edge compared to our competitors in seed testing standards, the latest pesticide treatments, disease eradication treatments, filmcoating polymers and equipment, seed pelleting, physiological seed enhancement such as seed priming, liquid density separations, and dormancy breaking techniques.

To serve our customers, we built our own seed pelleting facility. Here, we constantly refine and create seed pellet products to meet our customers' needs. This ensures our genetics reach their full potential in the field. We invite you to put our Seed Technology to the test.
We're Harris Moran
and we are serious about Seed Technology.