You're standing at the top of a ladder. In your left hand you have a feather. In your right hand you have an exact replica of that feather except it is coated with lead.
OK…now the fun begins. You drop each feather from the top of the ladder with the goal of hitting the center of the "X" that you just drew on the floor.
Which feather has the better chance of hitting the mark?
The lead coated feather of course. Why? You ask. Well…the lead coated feather will obviously have a truer, straighter drop that is less affected by outside influences on the way down.
Let's say you now put the ladder on wheels and while the ladder is moving, you try to hit a several different "X"'s spaced 1 foot apart down a row. You not only will be more accurate with the heavier feather, you'll be able to travel faster on the ladder and still have some accuracy compared to the feather without the lead coating.
What does this have to do with Seed Encrustment? Read on and I'll try to explain.
What is Seed Encrustment?
Seed Encrustment is similar to coating that feather with lead. You usually don't change the shape of the seed much, but you add quite a bit of weight to the seed. This may be the best way to maximize your planters ability to precisely place each seed in the row i.e. hit the "X". And like the ladder on wheels you can usually plant encrusted seed at a faster tractor speed than a light density seed without encrustment.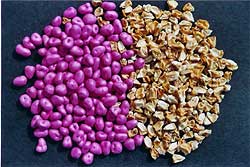 On the picture is an example of sh2 sweet corn before and after encrustment. In the case of sh2 sweet corn, you not only add weight to the seed, but you fill in the relatively large depressions in the seed, making a smoother seed surface which is more easily handled by most planters. The ending result is usually more evenly spaced plants, with less skips and doubles. In the case of sweet corn, this can lead to more marketable ears/acre and more profit for you.
Next, we'll talk about film coating seed and some of the new technologies being introduced in the article "Film Coating Seed – Very Pretty".
Also, since we've talked about seed pelleting, encrustment, and next film coating, we'll also try to summarize the differences between these processes and why each has a place in precision planting.
Keith

k.kubik@hmclause.com