Establishing genotype to phenotype relations: from art to science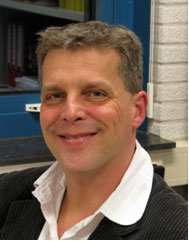 The author, Anker P. Sorensen,
is Vice President,
Keygene Applied Research

February 2010
Trait elucidation has been and will continue to be one of the major expertise fields of the KeyGene research community. Our molecular marker technologies, which we have now integrated in the "Accelerated Molecular Breeding" platform, have been instrumental in elucidation of the genetic components and inheritance mechanisms of simple and moderately complex traits. In the past few years, HTP sequence based methods for SNP discovery and SNP screening have been developed, tested and implemented for important vegetables and field crops. We are working with the concept of driver crops (tomato, pepper, melon, cucumber, lettuce, Brassica napus and B. oleracea, maize, cotton, potato and petunia) that guide the way in application of novel technologies and methods within crop groups. Technological developments have added an incredible resolution to the way in which we monitor genetic variation across breeding germplasm and in segregating progenies. In fact we are now able to monitor the genotypic variability on the sequence level in the major crop species. Using the KeyGene Lead discovery platform, the measured genetic variation is currently immediately coupled to those gene variants that possess putative functions, related to the phenotype that we are aiming to understand.

These very exciting developments for our trait researchers will only be profitable however if firm and preferably causal relations between gene variants and phenotypic expression of the trait under investigation can be made. Furthermore, the genotype / phenotype relations must be predictive for elite breeding of germplasm in the environments of professional crop production.

The limitation for establishing firm relations is currently no longer on the genotypic side, but depends on the resolution and precision of the phenotypic measurements of individual plants. For that reason, KeyGene has started an evaluation of structured, automated, serial digital imaging of growing crop plants two years ago, using the KeyTrackTM Phenotyping system for plant transport and digital imaging. The results are very encouraging and because of that KeyGene phenotyping facilities will be significantly expanded this year (KeyTrack facility with a total capacity for 1200 plants).

In principle, making a digital image of a plant does not increase resolution, but building algorithms that analyze the pixels of the images and robustly translate the image to a phenotype surely does. The fact that the images allow for a decomposition of a phenotype into various components, which individually can be captured precisely, has proven to increase heritability of the measurement. This increases the possibilities for establishing firm phenotypic relations with the genotypic variation. Furthermore, the decomposition of a phenotypic trait in time enables the creation of novel phenotypic scores (or functions) that sometimes correlate better with genotypic variation than a single point measurement. We are convinced that our current excellent crop-specific genomic tools and methods will benefit greatly from the addition of excellent digital phenotypic information. This will lead to the elucidation and development of novel traits and to significant improvement of the breeding process, resulting in a new generation of genetically improved traits.

Discussion with our partner breeding companies has led to many different KeyTrack projects, including experiments concerning plant development, drought tolerance and root development.
Anker P. Sorensen can be reached at as@keygene.com