Dallas, Texas
February 24, 2006

"This year's spring wildflower season is shaping up to be pretty dismal," said Dr. Wayne Mackay, a horticulturist with the Texas Agricultural Experiment Station in Dallas.

The state's prolonged drought means the dramatic displays of color Texans are used to won't be as evident, Mackay said.

However, aficionados might still be able to enjoy the wildflowers, he said. Bluebonnets are being grown commercially for the cut-flower industry, and they aren't just blue any more.

Mackay, along with Experiment Station researchers Dr. Tim Davis and Dr. Narendra Sankhla, have been developing long-stemmed bluebonnets in a variety of colors since 1991. Working out the problems inherent in the wildflower, which was necessary before any new varieties could be released, took seven years. Those problems included lengthening the flower, its life and its ability to hold blooms, and increasing the bloom's density and the flower's durability and greenhouse performance.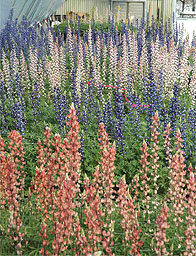 A sea of long stemmed bluebonnets exude an exotic, sweet scent when grown under greenhouse conditions. This test plot include, from front to back, a salmon-colored variety named Texas Sunset, the traditional blue Texas Sapphire and a light pink shade dubbed Texas Sunrise.
(Texas Cooperative Extension photo by Janet Gregg)
In 1998 the first two varieties of long-stemmed bluebonnets – blue Texas Sapphire and white Texas Ice were released.

"Florists like to have a series of colors in any given flower to give them greater design capability," Mackay said. "We developed a pink one and were working on a lavender shade to try to make the overall crop more appealing. We just didn't quite have those perfected at the time the first two were released. We've been working on perfecting them ever since."

In 2001 Mackay and his team traveled to the Big Bend in West Texas in search of new genes to cross into the pink bluebonnet line. Despite the Hill Country's fame for spring wildflowers, Mackay said, the show in West Texas and especially the Big Bend is even better.

"Bluebonnets grow best under high light and low humidity conditions," Mackay said. "The Big Bend area puts on a really spectacular show and the 'wow!' factor is even greater because you're out in the middle of a desert."

The 2001 wildflower season was especially good, he said "When we went and surveyed the population, I found about nine plants in the wild that were pink flowered," Mackay said. "There were so many flowers out there that year, the bees were simply overwhelmed and they weren't visiting the pink ones at all.

"So we drove 90 miles to the nearest store and bought water and kids' paint sets, and drove back and hand-pollinated all of the pink bluebonnets we could find in about a 50-mile area. We watered them and discretely marked them so we could find them again, and then we left. Four weeks later we went back and collected seeds from all of those plants. And you know, the only pink bluebonnet seeds we found were from the plants we had hand-pollinated. If we hadn't done it, there wouldn't have been any seeds for us to collect. So it was worth all of the effort."

In 2002 the seeds were grown and the best crossed back into the pink breeding lines. The researchers saw a difference immediately, Mackay said.

The plants flowered earlier, were sturdier for greenhouse production and had good longevity, he said.
During the past four years the team has been fine-tuning the plant's development for color, number of flowers on the stem, stem length and greenhouse performance.

Much of that greenhouse performance involved developing a resistance to ethylene, a naturally produced gas that can also be man-made. Wild bluebonnets exposed to ethylene lose their blossoms. Because plants produce ethylene naturally, this was a problem in confined areas, such as greenhouses. The team has developed bluebonnets that are resistant to ethylene, giving the flowers a longer base life.

"We know we could continue to improve them forever, but we feel we have finally reached the point where we have met the critical needs," Mackay said. "We'll be ready to release the pinks for commercial production within the next year and a half."

Pink bluebonnets don't exist anywhere else, he said. The team has isolated four shades of pink. The two most likely to be released first are a light pink named Texas Sunrise and dark pink that hasn't been named yet.
The team also is working on a salmon pink dubbed Texas Sunset and another shade of pink Mackay calls a true pink, which also hasn't been named yet.

The bluebonnet's potential color palette is limited, Mackay said.

"If the base pigments aren't found in the wild, the only way to create other colors out of the blue, white and pink color palette range, would be to cross the bluebonnets with other lupine species," he said.

He admits that is a long-term possibility, but said for now he will continue to work on the shades that have yet to be released.

"Our goal is to produce these as a crop aimed at being a larger, worldwide commodity," Mackay said. "We started this project because there was a lack of blue-flowered plants available to the cut-flower industry, which means there was a niche market that needed to be filled.

"We're well on the road to accomplishing that and a whole lot more."
Writer: Janet Gregg