Scott, Mississippi
January 26, 2001
Delta and Pine Land Company (NYSE: DLP) announced today that it has finalized a commercialization agreement with the USDA's Agricultural Research Service covering ARS' pollen transformation system (PTS). The USDA patent (issued in July 1999) was the result of research conducted through a CRADA (Cooperative Research and Development Agreement) DLP signed with the agency in 1996. This agreement provides the company exclusive licensing rights to the technology on a wide range of crops. DLP intends to sublicense the technology as broadly as possible.

"We are very pleased that we have now finalized an agreement with the USDA to open the door on initiating development of this technology to further genetic improvements in a broad range of species," said Murray Robinson, CEO and Vice Chairman. "By terms of our agreement with USDA, Delta and Pine Land will also spearhead efforts to broadly license this technology to a wide range of interested users."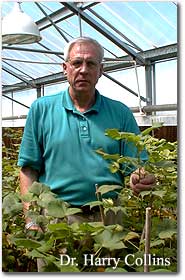 This laboratory system may be used for inserting transgenic traits into varieties of many species, according to Dr. Harry Collins, DLP's Vice President of technology transfer. "PTS will enable more efficient transformation of varieties and species, allowing researchers to reduce costs and development time due to a less complicated transformation mechanism. Currently, gene insertion is most often done through methods requiring regeneration of whole plants from single cells, a relatively slow and complicated process not suitable for all crop species and varieties. PTS is very similar to conventional breeding. The transgene is inserted into pollen cultured on a solid medium and the transformed pollen is then used to pollinate the flower(s) on a target plant that will produce seed carrying the transgenic trait.

"Because this system is much more efficient, we believe it will encourage production of transgenic cultivars in all types of economically-important crops including cereals, legumes, forages, citrus trees, vegetables and staple food plants and fruits," Collins continues. "Many of those crops are not currently in transgenic development due to cost concerns and technological barriers."

Robinson explained that this technology holds promise worldwide. "Developing biotech crops has been so cost-intensive that companies have launched their products only in those countries best able to repay the research and development costs," Robinson said. "PTS will make gene insertion more economical, helping ensure all farmers a future opportunity to benefit from biotechnology. As a result, we believe that both developed and developing countries can benefit from this breakthrough."

Delta and Pine Land Company is a commercial breeder, producer and marketer of cotton planting seed. Headquartered in Scott, Mississippi, with multiple offices in eight states and facilities in several foreign countries, DLP also breeds, produces and markets soybean planting seed. Delta and Pine Land Company stock trades on the NYSE under the symbol "DLP."
Company news release
N3281