Johnny's Selected Seeds is an International seed company serving over 50 countries.
Johnny's prides itself on superior products, research, technical information, and service to small, fresh market growers, seed dealers, and critical home gardeners.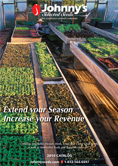 Johnny's specializes in vegetable, flower, and herb seeds, cover crops and farm seeds, as well as
a large line of quality tools and supplies.
The company's 200-page catalog is renowned for its depth of growing information, gorgeous product photos, and range of sizes to suit smaller and larger gardeners and growers. Over 150 new items are showcased annually as well as over 300 organic products and OMRI-approved pest and disease controls.
Superior Product Development
Johnny's Selected Seeds' focus on superior
products and innovation has resulted in a consistent release of award-winning varieties. Always independent since Rob Johnston founded the company in 1973, we cooperate with many plant breeding efforts, small and large, domestic and international. In addition, Johnny's manages its
own breeding programs on several crops, as well
as the seed production critical to new product
availability.
Rigorous Product Testing
Johnny's field trials involve performance comparisons between thousands of varieties each year on our farm in Albion where we practice sustainable and organic growing methods. These trials are a mix of new and experimental varieties from our own and cooperators' breeding programs,
varieties currently offered in our catalog, and our
competitors' best varieties. After trialing, we add
to the Johnny's product line only the varieties that we judge worthy of our customers' high
standards.

Quality Assurance
At Johnny's we know that high germinating,
disease-free seeds are critical to the success of
your farm. We cooperate with the best commercial
laboratories for seed-borne disease screening
and we run our own germination laboratory,
managed by a Registered Seed Technologist. To
make sure that we ship only top quality seeds,
we test the germination of all of our seed lots at
five month intervals. And, to make sure the
seeds keep their high germination, we store
them in a proper low temperature and humidity
controlled environment.
Customer Service

At Johnny's we pride ourselves on superior service for commercial growers and home gardeners. We help you with the information you need for smart product choices for a successful start to each growing season. We also maintain the fastest shipping standards in the business. Should you have any questions or concerns, our knowledgeable customer service representatives are only a phone call away.