United Kingdom - Barenbrug's famous fescue is CROWNed top grass again
United Kingdom
June 2, 2020
Grass breeders spend their working lives looking for incremental improvements to existing species and varieties. For example, it is estimated that "wear tolerance" in perennial ryegrass was subject to a ~5% improvement per decade in the European turfgrass market over a thirty-year period 1974-2004 (Sampoux et al., Grass and Forage Science, 2012).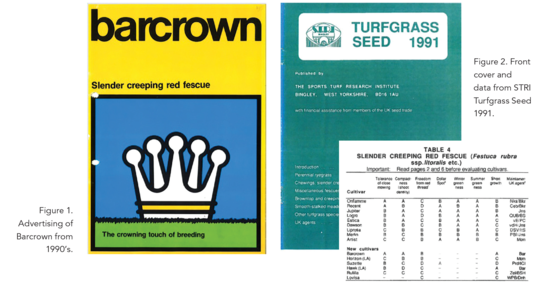 Occasionally though, their efforts are rewarded with astonishing breakthroughs – a perfect combination of genes, a fluke of nature, a mindblowing alchemy of science and luck. In the 1970s, almost 50 years ago(!), the stars aligned in a small field in Wolfheze, Holland and the slender creeping red fescue (Festcua rubra trichophylla) Barcrown was born. Or rather, "BAR FRT 8250" as it was known back then.
BAR FRT 8250
BAR FRT 8250 was first applied in official trials in 1982 in the Netherlands. It didn't take long for it to be clear that this was a very special cultivar. An appropriate name was needed – Barcrown seems as fitting today as it was then – truly "the crowning touch of breeding" (Figure 1).
It entered the STRI trials at Bingley in 1987 and was first listed in the Turfgrass Seed Booklet in 1991. In those days, the booklet scored cultivars with letter-grades. Barcrown's "A-grades" were easily obtained for close-mowing tolerance and shoot density (Figure 2). When numerical data first featured in 1995, it was very apparent that Barcrown was in a class of its own (Figure 3).
Spreading the Name
Barcrown's fame quickly spread far and wide – Figure 4 shows its Plant Variety Protection Certificate from the Secretary of Agriculture in the United States, and it has been a consistent feature in many turfgrass markets in the ensuing 30+ years.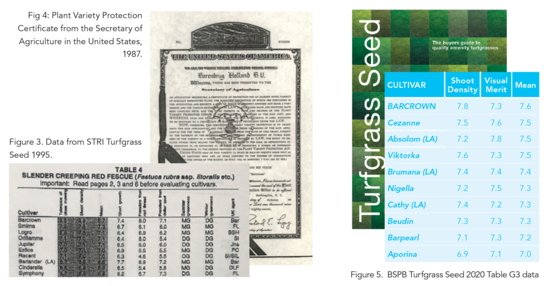 In terms of turfgrass in the UK & Ireland, Barcrown is most commonly associated with golf. It's a humbling thought that this cultivar was being pummelled in the Valley of Sin by an over-excited Italian in the Open Championship in 1995 and is still the chosen slender creeper at the Home of Golf a quarter of a century later. There are surely Barcrown plants thriving at virtually every top links course in the UK and Ireland today.
Barcrown Is Back!
Even more remarkable is the fact that Barcrown has regained its status at the #1-slender for golf greens use in the BSPB/ STRI Turfgrass Seed booklet 2020! Varieties are subjected to a re-test every eight years, and in its last trial, Barcrown convincingly beat all-comers for yet another coronation! After all these years, its shoot density remains unparalleled, as does its disease tolerance (see Figure 5).
Barcrown can be found today in the market-leading FESCUE mixture in Barenbrug Sport Range 2020. For tried and tested quality for almost 40 years, Barcrown is true turfgrass Royalty.
More news from: Barenbrug UK Ltd.
Website: http://www.barenbrug.co.uk
Published: June 2, 2020