Instant pheromone trap analysis through BASF's free xarvio Scounting app
Australia
June 20, 2022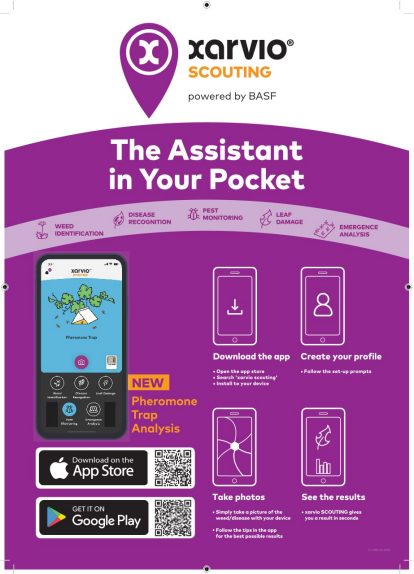 Instant pheromone trap analysis through the free xarvio® SCOUTING app
BASF's xarvio® SCOUTING smartphone app added latest feature of instant identification and counting of two major insect pests: codling moth and oriental fruit moth
The feature will be beneficial for fruit growers as pest monitoring can be done easily through trap analysis
The app also can also identify hundreds of types of weeds, and recognise the damage caused by more than 400 different diseases, pests and nutrient deficiencies in more than 60 different crops, including grapes and stone fruit
Fruit growers monitoring pest pressure can now save themselves the time, trouble and tedious task of manually identifying, counting and recording the pests they find in their pheromone traps.
The latest feature added to BASF's xarvio® SCOUTING smartphone app manages this task for them, providing instant identification and counting of two major insect pests: codling moth and oriental fruit moth.
"You just take a photo and xarvio SCOUTING's pheromone trap analysis feature does the rest," explains BASF's Technical Development Manager Mark Peacock. "It's a real time-saver because most growers know which pests they're looking at. But it may also identify pests more accurately than the human eye in some scenarios and can certainly count them much more quickly."
Codling moths and oriental fruit moths are a significant threat in many tree crops, so Mark anticipates an enthusiastic response, especially from pome fruit growers. "Codling moth is the driver pest in pome fruit, and oriental fruit moth is a secondary pest in those orchards, so I think apple and pear growers will find this innovative feature very useful."
The xarvio SCOUTING app, which is free to use and download from the App Store or Google Play, can also identify hundreds of types of weeds, and recognise the damage caused by more than 400 different diseases, pests and nutrient deficiencies in more than 60 different crops, including grapes and stone fruit.
Whatever the suspected problem, all you need to do is use your smartphone's camera and the app will instantly provide you with its analysis.
xarvio SCOUTING automatically keeps a record of all its findings, so you can build up a database and compare the various stresses on your crops over time.
Another important feature of the app is its unique radar function. Via SMS it lets users know when in-field stresses including pests and diseases have been identified in the local district. It collates data in every area, so it can warn growers and agronomists of threats in nearby crops and show the variations in pest and disease pressure between seasons.
Local take-up and use by growers and agronomists will also enhance the accuracy and speed of the app's analysis. helping it build a more complete picture of the specific pest and disease patterns in your local area.
You can use all this information to make faster and more informed crop management decisions, which will help optimize inputs and crop production. For example, most pheromone traps are used to determine spray timings. Assessing the risk of infestations will now be faster and you can potentially make more decisive calls based on information from around the district as well as what you find in your own traps.
"It will be exciting to see more features added to xarvio SCOUTING, as we look to provide more benefits for local horticultural growers and their advisers," says BASF's Head of Horticulture for Australia and New Zealand, Charith Kamaragoda. "The pheromone trap analysis feature in xarvio SCOUTING will give users a convenient, smart and useful introduction to the app. What all the extra features will have in common is fast, accurate analysis built on reliable data. Together they will add enormous value at no cost to growers."
More news from: BASF Australia Ltd.
Published: June 20, 2022