ProvisionGard Technology LLC introduces insect resistant packaging technology
Wayzata, Minnesota, USA
March 2013
ProvisionGard™ Technology LLC is pleased to introduce insect resistant packaging technology that is U.S. EPA approved and U.S. FDA compliant for all types of food, feed and seed packaging.

ProvisionGard™ can protect your commodity for over 2 years from stored product insects and can be implemented easily at your current packaging suppliers for usually pennies a package.

Designed as a seamless solution for your paper/film bags and super sacks that requires no labeling and safely reduces insect populations in and around your stored products.

Save money by reducing use of dangerous fumigations in your warehouse and transport systems and deliver higher quality products.
This video will clearly demonstrate how effectively ProvisionGard™ works.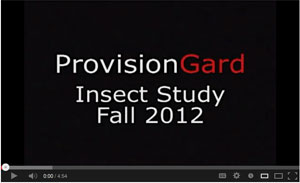 ProvisionGard Technology experiment using paper and film packaging
with insects inserted inside of package at start of study. Detailed interview
with entomologists Jade Vardeman of Moses Biologic explaining results of the study.
(December 2012)
More news from: ProvisionGard Technology LLC
Website: http://www.pvgard.com/
Published: March 25, 2013