Inauguration of the new HM.Clause research and development station in Khon Kaen, Thailand
January 9, 2018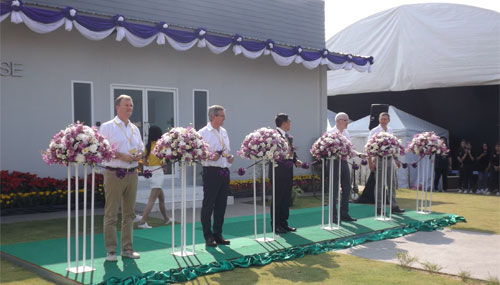 This January 9, 2018 HM.CLAUSE inaugurated its new Research and Development Station in Khon Kaen, North East of Thailand
This special event took place in presence of the Governor of Khon Kaen, local politicians, industry participants and Khon Kaen university representatives. In addition to this were also 4 of the local schools represented by each principal, as well as all HM.CLAUSE Thailand employees and the LIMAGRAIN and HM.CLAUSE governance.
With this new facility in Khon Kaen HM.CLAUSE hopes to deliver higher quality genetics at a faster rate to the farmers in order to create a more sustainable and profitable profession that helps to feed this ever evolving population.
The station is supporting breeding for hot and humid markets of the world for tomato, hot pepper, cucumber, watermelon, melon and tropical sweet corn. Besides breeding and disease screening, this station supports generation advancement, speed to market breeding and adaptation trials of other vegetable crops.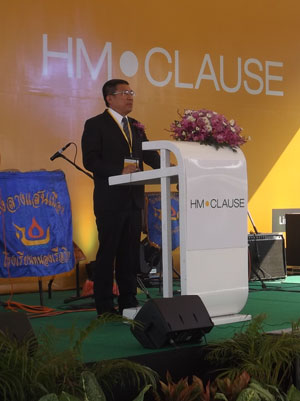 The Khon Kaen R&D station benefits of a cutting edge equipment for production under shelter. On 150 000 m², 90 000 are dedicated to open space for breeding lines and adaptation trial, 5 000 for breeding and crossing activities, 2 000 for natural ventilated poly house for nursery and 30 000 for isolated open space for disease screening. 65 employees are today working on the station and we are expecting to reach 100 people in the next 3 to 5 years.
For Gilles Gay, VP Head of HM.CLAUSE Research & Development ; Khon Kaen is a key opportunity for its optimal growing conditions, its close proximity to the vegetable growing areas and its access to the local university for scientific collaborations and recruiting of skilled employees. This is an investment for the future. With its creation we are expecting to triple our capacity in terms of breeding and trialing. The station will also bring the opportunity to grow crops all year round, to accelerate breeding programs for Asia but also for European and American breeding programs.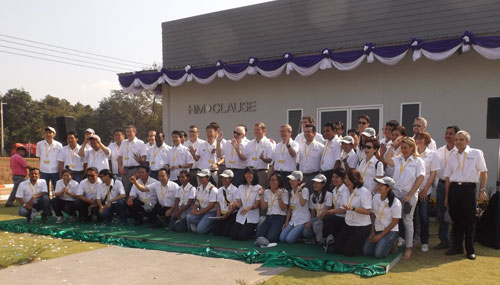 The Khon Kaen station is marking a step forward in the HM.CLAUSE's pursuit to deliver high quality vegetable seed genetics which are highly adapted to the South East Asian market and more specifically Thailand.
The goal we have today for Asia of becoming a top 3 company here is based on a vision to provide higher quality vegetable seed varieties to our growers and supply chain partners. A critical requirement to this vision is through strong local R&D breeding infrastructure, germplasm and people, to ensure we have varieties well adapted to the local climatic conditions and disease pressures. We believe that Khon Kaen offers these conditions, explains Daniel Gleeson, VP Asia for HM.CLAUSE.
For Rémi Bastien, CEO of HM.CLAUSE : HM.CLAUSE has strong ambition for this region and we decided to invest massively in Asia. We established local entities in Thailand, India, Vietnam and Indonesia and set up a regional office in Bangkok. We have more than 550 permanent HM.CLAUSE employees, located in those 4 countries.
HM.CLAUSE is a global vegetable seed company dedicated to meeting local needs through global diversity, and is committed to innovation inspired by worldwide partnerships in the scientific, industrial, and commercial fields. An innovative company whose core business is plant breeding, HM.CLAUSE specializes in the development, production, and sales of vegetable seeds worldwide. In 2008, Harris Moran Seed Company (USA) and Clause (France) were grouped together under the HM.CLAUSE Business Unit of Limagrain. HM.CLAUSE generated 365 euro million in annual sales in 2017 and employs more than 2900 people full-time located in over 30 countries around the world. Its investments in research and breeding represent 15% of annual sales. The organization coordinates breeding for 25 species and has more than 800 people actively engaged in research and development activities. HM.CLAUSE is a Business Unit of Limagrain, an international agricultural co-operative group, specializing in field seeds, vegetable seeds and cereal products. Founded and managed by French farmers, Limagrain is the 4th largest seed company in the world.
More news from: HM.Clause
Website: http://www.hmclause.com
Published: January 9, 2018