BASF Vegetable Seeds' cucumber Hi Power for high-wire cultivation under artifical light - Proven results and high light efficiency
Hi Power für den beleuchteten Hochdrahtanbau - Erwiesene Ergebnisse und hohe Lichteffizienz
Hi Power voor de belichte hogedraadteelt - Bewezen resultaten en hoge licht efficiëntie
Nunhem, the Netherlands
7th October, 2021
Proven results and high Light Efficiency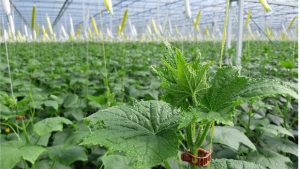 As the main variety in the winter and spring crop under artificial lighting, Hi Power is rated highly for its stability. Even now that many growers are taking the first steps towards LED lighting, the variety continues to produce steadily. It also performs well under various light spectra and levels, say growers and experts.
Reliable Under All Types of Lighting
Anne Jancic, Global Marketing & Business Development High Tech at BASF vegetable seeds business, explains, "Hi Power is known for its effective use of light, be that SON-T lighting, full LED lighting, or a hybrid form. The variety is universal. You can get the best out of it under all circumstances, which gives growers the security they're looking for – especially if they're switching to other forms of lighting or altering the growing plan."
Hi Power is very predictable under various light levels (from 80 to 250 micromole) and various light spectra (SON-T, LED, hybrid). "You always know what you're getting. The fruit quality always meets the most stringent market demands," says grower Huub van Wylick, who has run his farm in Maasbree, the Netherlands, with his wife Marlies for almost 35 years. "We have two separate cultivation systems: high-wire cultivation with 110-micromol lighting and a traditional cultivation department. Since this year, we've also been cultivating three crops a year on high-wire under artificial lighting, in order to save on labor and improve labor planning. Although high-wire cultivation is a big investment, it does significantly reduce the energy input per cucumber. There are lots of positive aspects to it."
Van Wylick explains the various advantages. "Artificial lighting reduces the time to production, which has an added benefit for the staff. It means you can offer them more work earlier in the season, which creates a stronger bond. The variety is labor-friendly: Thanks to the plant's open character, we'll pinch stems later than before in order to reach the final stem density. This leads to a huge boost in quality as well as a reduction in labor."
Hi Power is a reliable choice for Van Wylick, too: "We just know that Nunhems varieties are compact and labor-friendly. Hi Power has small leaves in a horizontal position, and the variety also delivers reliable quality in the winter months. The attractive, straight cucumbers fully meet the length and fruit weight requirements."
Changing Lighting Conditions
Plant Specialists such as Erik Stappers from Signify have been working for some time on optimizing cultivation under LED lighting. "We're in the optimization phase for cultivation under hybrid lighting, which is now ready for practical use in North-western Europe. For full LED, we still must make steps towards a large-scale practical introduction. The lighting and the variety must be a good match, as the differences between varieties are in this even greater than in hybrid lighting. There's an increasing degree of interaction between the market and growers, and now things are speeding up towards a better and stable market for winter-grown cucumbers."
---
Hi Power für den beleuchteten Hochdrahtanbau - Erwiesene Ergebnisse und hohe Lichteffizienz
Hi Power ist aufgrund ihrer Stabilität eine beliebte Hauptanbausorte für beleuchtete Winter- und Frühjahrskulturen. Da mittlerweile viele Anbauer auf LED-Beleuchtung setzen, lassen sich mit dieser Sorte dauerhaft ansprechende Ergebnisse erzielen. Anbauer und Experten bestätigen, dass die Sorte auch bei Anwendung unterschiedlicher Lichtspektren und -niveaus gut wächst.
Zuverlässig bei allen Beleuchtungsarten
Anne Jancic, Global Marketing & Business Development High Tech im Gemüsesaatgutgeschäft von BASF, erklärt: "Hi Power ist für effektive Lichtnutzung bekannt. Dabei ist es unerheblich, ob es sich um Son-T-Beleuchtung, Full-LED-Beleuchtung oder Hybridformen handelt. Die Sorte ist universell einsetzbar und sorgt unter allen erdenklichen Umständen für optimale Ergebnisse was Anbauern die gewünschte Sicherheit bietet, vor allem dann, wenn sie auf andere Beleuchtungsformen setzen oder ihre Anbausaison anders einteilen."
Hi Power bietet eine hohe Berechenbarkeit auf allen möglichen Lichtniveaus (von 80 bis 250 Mikromol) und in diversen Lichtspektren (Son-T, LED, hybrid). "Sie wissen jederzeit, was Sie bekommen. Die Fruchtqualität entspricht grundsätzlichen höchsten Marktanforderungen", erklärt Anbauer Huub van Wylick, der schon seit fast 35 Jahren seinen Betrieb in Maasbree gemeinsam mit seiner Frau Marlies führt. "Wir haben zwei separate Anbausysteme: Hochdrahtanbau mit einer Beleuchtung von 110 Mikromol und einen Bereich mit herkömmlichem Anbau. Seit diesem Jahr haben wir auch beim beleuchteten Hochdrahtanbau drei Kulturen pro Jahr, was für Arbeitsersparnis und eine bessere Aufteilung sorgt. Hochdrahtanbau erfordert erhebliche Investitionen, aber der Energieaufwand pro Gurke ist wesentlich günstiger, was das Ganze wiederum sehr attraktiv macht."
Van Wylick bestätigt, dass Hochdrahtanbau diverse Vorteile bietet. "Die Beleuchtung sorgt dafür, dass die Produktion eher beginnen kann. Davon profitieren auch die Beschäftigten, da es bereits zu einem früheren Zeitpunkt der Saison mehr für sie zu tun gibt, sodass sie besser gebunden werden können. Die Sorte ist arbeitsfreundlich, da der offene Charakter der Pflanze dafür sorgt, dass erst zu einem späteren Zeitpunkt weitere Treibe entfernt werden, bis der endgültige Pflanzenabstand erreicht ist. Resultat sind eine höhere Qualität und zusätzliche Arbeitsersparnis."
Hi Power ist auch für Van Wylick eine gute Wahl: "Wir wissen einfach, dass Nunhems-Sorten kompakt und arbeitsfreundlich sind. Hi Power hat kleine Blätter mit einer horizontalen Position. Die Sorte ist zuverlässig – auch was die Qualität während der Wintermonate angeht. Darüber hinaus überzeugen die attraktiven, geraden Gurken durch ihre Länge und das Fruchtgewicht."
Veränderte Lichtverhältnisse
Anbauspezialisten wie Erik Stappers von Signify befassen sich schon seit längerer Zeit damit, den Anbau bei LED-Beleuchtung zu optimieren. "Der Anbau bei hybrider Beleuchtung befindet sich in der Optimierungsphase. In Nordwesteuropa ist dieses Verfahren reif für den Einsatz in der Praxis. Wir stellen fest, dass bei Full-LED noch weitere Schritte notwendig sind, um dieses Verfahren in großem Maßstab in der Praxis einsetzen zu können. Die Beleuchtung und die Sorte müssen optimal aufeinander abgestimmt sein, da die Unterschiede zwischen Sorten hier noch größer sind als bei hybrider Beleuchtung. Es zeigt sich deutlich, dass Markt und Anbau sich immer besser aufeinander abstimmen und die Entwicklung hin zu einem besseren und stabileren Markt für im Winter angebaute Gurken sich beschleunigt."
---
Hi Power voor de belichte hogedraadteelt - Bewezen resultaten en hoge licht efficiëntie
Als hoofdras in de belichte winter- en voorjaarsteelt wordt Hi Power geprezen om haar stabiliteit. Ook nu veel telers de eerste stappen zetten richting LED-verlichting blijft het ras gestaag produceren. Ook onder diverse lichtspectra en niveaus gedijt het goed, zeggen telers en experts.
Betrouwbaar in alle soorten belichting
Anne Jancic, Global Marketing & Business Development High Tech van BASF's vegetable seed business: "Hi Power staat bekend om het effectieve lichtgebruik. Of het nu om Son-T-verlichting, Full-LED verlichting of een hybride vorm gaat. Het ras is universeel inzetbaar: onder alle omstandigheden kun je er het beste uit halen. Dat biedt telers de zekerheid die ze zoeken. Vooral als ze overstappen naar andere belichtingsvormen of een andere indeling van het teeltseizoen".
Onder allerlei lichtniveaus (van 80 tot 250 micromol) en diverse lichtspectra (Son-T, LED, hybride) is Hi Power heel voorspelbaar. "Je weet altijd wat je krijgt. De vruchtkwaliteit voldoet altijd aan de hoogste eisen van de markt.", aldus teler Huub van Wylick. Hij runt al bijna 35 jaar met zijn vrouw Marlies zijn bedrijf in Maasbree. "We hebben twee aparte teeltsystemen: hogedraadteelt met belichting van 110 micromol en een afdeling traditionele teelt. Sinds dit jaar doen we ook in de belichte hogedraad drie teelten per jaar. Dat levert een besparing van arbeid op en een betere verdeling. De hogedraadteelt is een flinke investering, maarde energie-input per komkommer is veel gunstiger geworden dus is het een interessant plaatje geworden."
Er zitten meerdere voordelen aan, zegt van Wylick. "Met belichting kom je eerder in productie. Dat is ook fijn voor het personeel: je kunt ze vroeger in het seizoen meer werk bieden, dit geeft ook een betere binding. Het ras is arbeidsvriendelijk: door het open karakter van de plant gaan we later dan voorheen stengels bijmaken om tot de eindafstand te komen. Dat levert een goeie kwaliteit en behoorlijke arbeidsbesparing op."
Hi Power is ook voor Van Wylick een betrouwbare keuze, "We weten gewoon dat Nunhems-rassen compact en arbeidsvriendelijk zijn. Hi Power heeft kleine bladeren met een horizontale stand. Het ras is ook betrouwbaar, ook qua kwaliteit in de wintermaanden. En de mooie, strakke komkommers voldoen goed aan lengte en vruchtgewicht."
Veranderende lichtomstandigheden
Teeltspecialisten, zoals Erik Stappers van Signify, zijn al een tijd bezig met het optimaliseren van de teelt onder LED lampen. "Voor de teelt onder hybride belichting zitten we in de optimalisatiefase. Voor Noordwest-Europa is dat praktijkrijp. We zien dat we voor Full-LED nog stappen moeten maken om de grootschalige praktijkintroductie te gaan doen. De belichting en het ras moeten goed matchen: de verschillen tussen rassen zijn hier nog groter dan bij hybridebelichting. Je ziet dat de markt en teelt elkaar steeds beter vinden en nu komt het in een stroomversnelling richting een betere en stabiele markt voor in de winter geteelde komkommers."
More solutions from:
. BASF Vegetable Seeds
. Nunhems
. Nunhems Deutschland GmbH
Website: http://www.nunhems.com
Published: October 11, 2021