Robotics and plant intelligence win GROW agri-tech competition - Agri-Tech East cluster supports pipeline of innovation
United Kingdom
June 27, 2016
"The future is here already – it is just not evenly distributed," Michael Lee, Managing Director of Syngenta Ventures, quoted at the final of GROW, the UK's first national agri-tech business plan competition. He was describing how exciting business concepts are emerging internationally but as the six finalists of GROW presented, it quickly became clear that the future is concentrated here, with most of the major global trends he had identified present in the room.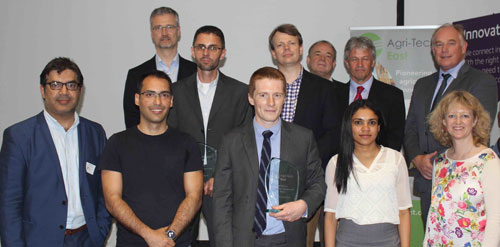 Top: Michael Lee (Syngenta Ventures), winner Phil Wigge (Pinpoint Phenomics), finalist Jason-Hawkins-Row (Aponic), judge Peter Cowley, judge Simon Bowen (BBRO), judge Calum Murray (Innovate UK); Bottom: finalist Arsalan Ghani (Share Your Foods), finalist Mayke De Freitas Santos (ACT), winner Armand de Durfort (Softharvest), finalist Veena Adityan (Smartbell), Belinda Clarke (Agri-Tech East)
GROW has been developed by Agri-Tech East to encourage entrepreneurship in agri-food industry. Dr Belinda Clarke, Director of Agri-Tech East, says: "Agri-Tech East's vision is to be a globally recognised catalyst of open innovation and agri-entrepreneurship. Through GROW we are rapidly establishing a vehicle to find and support these new agri-businesses and by harnessing the power and diversity of our expert network we can also greatly increase their chances of success."

Armand de Durfort, founder of Softharvest, winner of the student category of Agri-Tech East's GROW agri-tech business plan competition.
This year's competition attracted entrants from across the country and many of the finalists already have international aspirations.
The GROW finalists are:
Winner: non-student
Pinpoint Phenomics, which allows growers and breeders to know 'what a plant is thinking' by using the plant's own messaging system to see its response to environmental stress;
Finalists: non-student
Aponic, a soil-less growing system which allows crops to be grown vertically, fed by a fine mist of water and nutrients. Suitable for urban warehouse farming, it produces 30 per cent more yield with 90 per cent less water;
Smartbell, which, by using the 'Internet-of-Cows' to detect changes in animal behaviour, brings the expertise of an experienced herdsman to an automated dairy system;
Winner: student
Softharvest, a gentle robotic harvester that uses visual recognition to allow just-in-time picking of lettuces without damage to delicate plants.
Finalists: student
Aerial Crop Technologies, which offers a pay-as-you-go drone-based monitoring system delivered in a box;
Share Your Foods, a food sharing platform to allow those with a surplus to reach potential consumers directly.
Dr Clarke explains GROW was devised to identify and support those UK agri-entrepreneurs with ideas to help agriculture and horticulture. By leveraging the highly supportive environment in the east of England Agri-Tech East will help these new agri-business grow into fully fledged companies that can bring real benefits to the industry.
She says: "We are delighted by the way that so many of our members and contacts have been prepared to be mentors and invest their time and resources into working with the GROW applicants, giving them valuable industry insights, unique market intelligence and sound advice on setting up and building a new business.
"The strength of a cluster is in creating connections with mutual benefit and already some of the large businesses in our ecosystem are considering commercial relationships with some of the GROW finalists."
Calum Murray of Innovate UK, which supported GROW, was delighted by the quality of the finalists: "The role of Innovate UK is to work with people, companies and partner organisations to find and drive the science and technology innovations that will grow the UK economy and we saw some brilliant innovations today.
"All the entrepreneurs had listened to the feedback they had been given and strengthened their plans accordingly. It was good to see the level of engagement with commercial operations. These collaborative ventures are the type of projects that could potentially attract future funding from Innovate UK."
The final was hosted by Agrii, at the Throws Farm Technology Centre. David Langton, Agrii's Head of Crop Science and Stewardship, agreed that collaborative projects are a good way to fast track innovation and is running four projects supported by Innovate UK.
Michael Lee also gave some clear direction to agri-tech entrepreneurs: "Have a clear value proposition that is directed at providing a clear benefit for the plant, the grower or the consumer. More or improved is good, but different is better. Don't try and take on everyone, just show how you will dominate a niche."
This year the support prizes have been provided by: AgriGate Research Hub (NIAB), Barr Ellison LLP, Cambridge Cleantech, Cambridge Network, Centre for Entrepreneurial Learning at Cambridge Judge Business School, Future Business Centre, ideaSpace City, Institute for Environmental Analytics, Norfolk Network, and Norwich Research Park.
---
FINALISTS FOR GROW
NON-STUDENT
Winner
Understanding internal plant signals may help boost crop yields - Pinpoint Phenomics
Pinpoint has developed a system that allows the producer to quickly measure the internal signals a plant makes in response to the environment, revealing the equivalent of 'what a plant is thinking.'
Plants are highly responsive to the environment and switch genes on and off rapidly, and how genes are expressed determines the overall yield, or crop "phenotype." For example if the plant is deprived of light it will grow spindly and pale in colour until it finds a source of light.
By tapping into the signals within the plant it is possible to determine the cause of the underlying stress – lack of water, shortage of nutrients, attack from pests – and improve these conditions before they impact crop yields.
Pinpoint will analyse plant samples to give the grower advance information on crop performance. The method is also likely to be useful for breeders seeking to identify varieties with optimal combinations of traits.
Pinpoint was co-founded by Philip Wigge and Surojit Biswas. Wigge runs a research programme in the Sainsbury Laboratory at Cambridge University that studies how plants sense temperature. Biswas, who originally studied in the Wigge group, is now a PhD student at Harvard.
Pinpoint uses a combination of wet-lab methods and machine-learning algorithms developed by Biswas and Wigge to accurately but cheaply understand plant gene expression.
Finalists
Warehouse farming brings food closer to point of consumption –Aponic
Aponic allows salad and other crops to be grown quickly in a vertical, soil-less growing system in urban warehouse farms, allowing increased yields in less space.
The roots are fed with a fine nutrient mist for 10 seconds every 20 minutes during the day within a closed environment. This means the plants are kept at optimum conditions – there is no wastage of water and no requirement for additional fertiliser or pesticides. The plants are therefore suitable for the 'free-from' market, require no washing after harvest and grow 30% faster using 90% less water.
The Aponic system will allow brownfield sites, rooftops and sides of buildings to be used for food production close to centres of population.
CEO of Aponic Jason Hawkins-Row, based in Suffolk, has a background in engineering and avionics and has previous commercial success with a rainwater harvesting company in Australia.
***
Internet of Cows provides early indication of health issues - Smartbell
Smartbell brings the expertise of an experienced herdsman to an automated dairy system. It is able to detect changes in behaviour by individual animals that may indicate that they are in pain, becoming fertile, pregnant or unwell or not eating.
Each animal wears an RFID tag and this collects data about its movements. The system can detect unusual behaviours and alert the producer. Smartbell provides early indication of health issues, allowing preventative action, such as separating the animal before it infects others, treatment before lameness etc. In farm trials it has been shown to generate revenues of over £40k for a herd of 300 cows.
Smartbell will help improve the health and resilience of the herd and reduce the cost of treatment.
The founders are Veena Adityan, whose previous experience includes the design and deployment of cloud services such as Amazon's streaming music service, and Jose Chitty, a mechanical engineer with experience in large-scale automation projects
STUDENT
Winner
Gentle automatic harvester allows just-in-time picking of lettuces - Softharvest
Softharvest provides automated harvest of lettuces using visual recognition to control the robotic picker and prevent damage to the delicate plants.
Harvesting represents 60% of the cost of production for a lettuce crop and is generally done by hand. The challenge for a robot is accurate identification of the lettuce and then to pick it without bruising the leaves. Automating this process with Softharvest would pay for itself in three years and offer harvesting of three main crop lettuces: iceberg, Romaine and green leaf.
The venture started as a research project at the bio-inspired robotics laboratory of the University of Cambridge in collaboration with G's Growers, which harvests 3 million heads of iceberg a week.
Softharvest would allow lettuces to be picked to order with a fast turnaround, allowing producers to meet tight deadlines.
Armand de Durfort, the founder of Softharvest, is a graduate from Ecole Polytechnique and has just completed his MPhil in Industrial Systems, Manufacture and Management at the University of Cambridge.
Finalists
Drone station allows pay-as-you-go crop monitoring – ACT
ACT (Aerial Crop Technologies) is offering a pay-as-you-go service to allow farmers without in-house expertise in data management to benefit from drone-based monitoring.
The drone station is delivered at the beginning of the season and it will carry out a number of predetermined operations – ie to map the land, provide soil profile of the soil, and monitor growth and health of the crop. The drone will be equipped with machine vision to orientate itself and to identify precisely areas of concern and highlight them to the agronomist.
The drone returns itself to the drone station for recharging and download of information, which is then processed and presented as an actionable report to the farmer or agronomist.
ACT will allow the farmer to benefit from the latest technology without the need for sophisticated data handling skills.
The founder is Mayke De Freitas Santos, a postgrad at the University of Cambridge. He has experience of agriculture gained from working with farmers in Venezuela and Colombia in the last six years, mainly in permanent crops such as cocoa and coffee
***
Food sharing platform connects the supply with demand – Share Your Foods
Share Your Foods is developing a food-sharing platform which will allow producers, retailers and mass caterers with an excess of produce to reach potential consumers directly. This would address the issue of avoidable food waste, which is currently valued at £12.5 billion in the UK.
The founder is Arsalan Ghani, at PhD Engineering at University of Cambridge.
About Agri-Tech East: www.agritech-east.co.uk
Agri-Tech East is a business-focused cluster organisation. The East of England is home to the business, technology and research powerhouses of Cambridge and Norwich as well as some highly innovative growers and producers who manage much of the UK's most productive and profitable agricultural land. By creating a global innovation hub, Agri-Tech East aims to improve the international competitiveness of plant and crop-based agriculture and catalyse economic growth.
More solutions from:
. Agri-Tech East
. Pinpoint Phenomics
. SoftHarvest
Website: http://www.agritech-east.co.uk/
Published: June 27, 2016