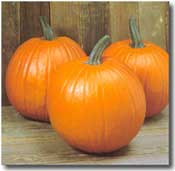 February 2001

Source: Harris Moran Seed Company

Powdery mildew is an annual probelm in nearly every pumpkin growing area.

Although it rarely destroys the crop, it seriously reducess yield and fruit quality.

Fungicides to control the disease are available, but they can be costly and often are not very effective, due to pathogen resistance.

Also, because of the long pumpkin growing season, it is difficult to get good chemical control, using ground equipment, without damaging the vines.

Harris Moran recognized the need for Powdery Mildew tolerant (PMT) varieties and, in 1987, made the first cross leading to the first PMT varieties.

HMS pumpkin varieties with tolerance to Powdery Mildew

Within a very short time, these varieties have become a sensation in the industry.

We continue to emphasize Powdery Mildew tolerance in our breeding and plan to remain the leader for years to come.