The internationally recognized, premier manufacturer of spiral separators
Across the globe, those who enjoy agricultural success do so by making the most of their seed, while saving money too.
Ask them how they do it and they'll tell you -- Profile Industries™.

Only Profile offers the original spiral separators, known around the world for reducing waste, increasing productivity and boosting profits. Both economical and eco-friendly, Profile's sturdy Spiral Separators keep seeds pure, while maximizing profitability.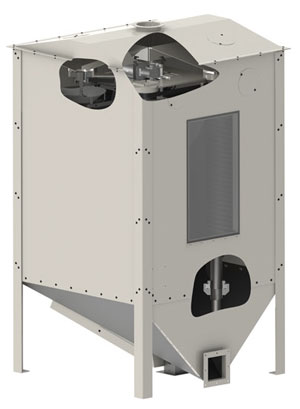 4 core enclosed spiral separator
Working with a wide range of agricultural enterprises, industrial corporations and Fortune 100 companies in over 30 countries worldwide, only Profile Industries offers:
Both customized solutions and standard in-stock machines with same-day shipment available

1, 2, 4 (pictured), 6, 8 and 12-core enclosed units and rotary units

An impressive selection of standard core flight sizes

FREE media lab testing

3D modeling

Long-lasting, durability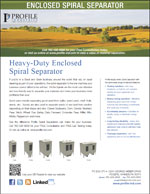 The dedicated professionals at Profile Industries look forward to helping you increase your financial yield.
For full information on these products, please download our Separator Product Sheet (pictured at left).

Visit Profile Industries
online today at
http://profile-ind.com/