Applewood Seed Company was established in 1965 in Colorado. We are a company dedicated to offering quality products and service. We are committed to research and new concepts in growing wildflowers and flower seed in general. We feel we are equipped to meet all the needs and challenges that our customers and the future may bring to us. Innovation is our trademark.. We produce seed on a world-wide basis and offer competitive prices along with top quality.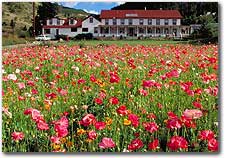 Although Applewood's specialty is wildflowers, we also offer open-pollinated cultivated flower seed as well as native grass and selected herb seeds. We sell over 250 individual species and many stock wildflower and cultivated flower mixtures for direct seeding.
Our skilled consulting staff includes 4 horticulturists and an ecologist. We maintain a full service, registered seed testing laboratory with two analysts. In addition, we conduct on-site field trials at the company and at other locations throughout the U.S. We have the facilities and capabilities to blend wildflower mixtures that meet the specific needs of our diverse customers throughout the world.