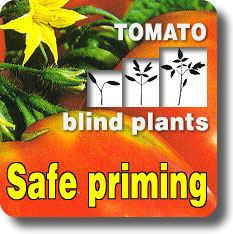 Tomato Blind Plants - Safe Priming
Blind plants (INCOTEC acronym BliPs) in tomato is a disorder concerning the growing point.
It may occur early in development, resulting in a seedling with no true leaves up to just one, two or three leaves. It can also occur later in the plant development, after the 5th or 6th node has developed, but at this stage, this is mainly an effect of growing conditions.
It is still not known exactly what causes blindness.
If and to what extent this sensitivity comes to expression, can depend on several factors. Conditions during seed production, as well as during post-harvest processing of the seed can increase the sensitivity, and may eventually, when a "threshold" is passed, lead to an increase in blind plants. Furthermore, germination and growing conditions can have an effect on the occurrence of blind plants.
Some more facts:
Tomato plants easily form side shoots, so after a while the plant may recover. When grown at a plant raiser, these plants are often too retarded to be useable, but when sown directly in the field, these plants may not be noticed.
Priming can have a dramatic effect on the occurrence of blind plants; in sensitive cultivars increases of over 30% have been observed.
There is certainly a genetic factor, which determines whether a cultivar can be sensitive for developing blind plants, or not
(it may be related to the "determinate" character).

Blind seedling
Blind seedling. Just 1 leaf, no growing point
Blind seedling.
Three leaves,no growing point
Normal seedling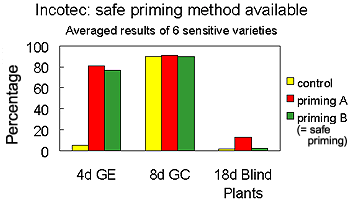 INCOTEC began looking into the Blind Plants problem in tomatoes in 1995. The goal was to develop a priming that would not increase the incidence of Blind Plants but still allow for increased uniformity and speed of germination. Since that time a safe priming has been developed and is now used for most of the tomato seed lots being grown in many different countries (e.g. the Netherlands, Brazil, Italy, Spain, Israel).

Incotec regularly gets the question whether it is possibly to "repair" tomato seed lots that have already 10-15% blind plants, probably caused by the genetic background and the conditions during seed production. INCOTEC continues to maintain research projects in this area to find a repair solution.